President Donald Trump told supporters during Sunday evening's rally in Macon, Georgia, that Democrat gubernatorial candidate Stacey Abrams will turn their state into Venezuela if she wins Tuesday.
"Stacey Abrams is one of the most extreme, far-left politicians in the entire country," President Trump began. "She wants to raise your income tax very substantially. She wants to raise your property tax very substantially, right through the roof."
"She supports a socialist takeover of health care, which means you will never be able to see your doctor," the president continued. "You put Stacey in there, and you're gonna have Georgia turn into Venezuela. I don't think the people of Georgia like that."
"Stacey Abrams — and I spoke to law enforcement, I spoke to everybody — is really weak on crime. Really weak on crime," he added.
President Trump was in the Peach State to drum up last-minute support for Republican gubernatorial candidate and Georgia's Secretary of State Brian Kemp and Tennessee Senate candidate Marsha Blackburn.
"Brian Kemp is an incredible fighter and a tireless champion for the people and for the values of Georgia, and he was with me right from the beginning," President Trump told his supporters before warning their "Second Amendment is gone" if Abrams is elected.
Kemp briefly addressed attendees to laud President Trump for "having Georgia on your mind."
"As you all know, many times the states are the laboratories of democracy. And the president needs some help at the state level from time to time, so I want to encourage you all to get out and vote on Tuesday," Kemp told the raucous crowd.
On Sunday, the office of Georgia Secretary of State announced it was launching an investigation into the Georgia Democrat Party for possible "cyber crimes."
"While we cannot comment on the specifics of an ongoing investigation, I can confirm that the Democratic Party of Georgia is under investigation for possible cyber crimes," a statement via press secretary Candice Broce read. "We can also confirm that no personal data was breached and our system remains secure."
In an interview with CNN's State of the Union Sunday, Abrams dismissed concerns raised by Kemp's office, claiming the investigation is a "desperate attempt on the part of my opponent to distract people from the fact that two different federal judges found him derelict in his duties."
Abrams is under fire after a group of armed Black Panthers rallied in support of the far-left Democrat in Atlanta Saturday. Photos of the radicals are making the rounds on social media and have drawn condemnation from Kemp, whose campaign press secretary Ryan Mahoney called on Abrams to denounce.
Mahoney said in a statement Sunday:
It's no surprise that militant Black Panthers are armed and patrolling the streets of Georgia for Stacey Abrams. The Black Panthers are a radical hate group with a racist and anti-semitic agenda. They are dangerous and encourage violence against our men and women in uniform. Stacey Abrams should immediately denounce the Black Panthers and their hateful record of racism. She should stand against and condemn their attempts to intimidate hardworking Georgia voters just days before the election.
A newly released Trafalgar Group poll shows Kemp holds a commanding 12-point lead over Abrams with 2,200 likely voters.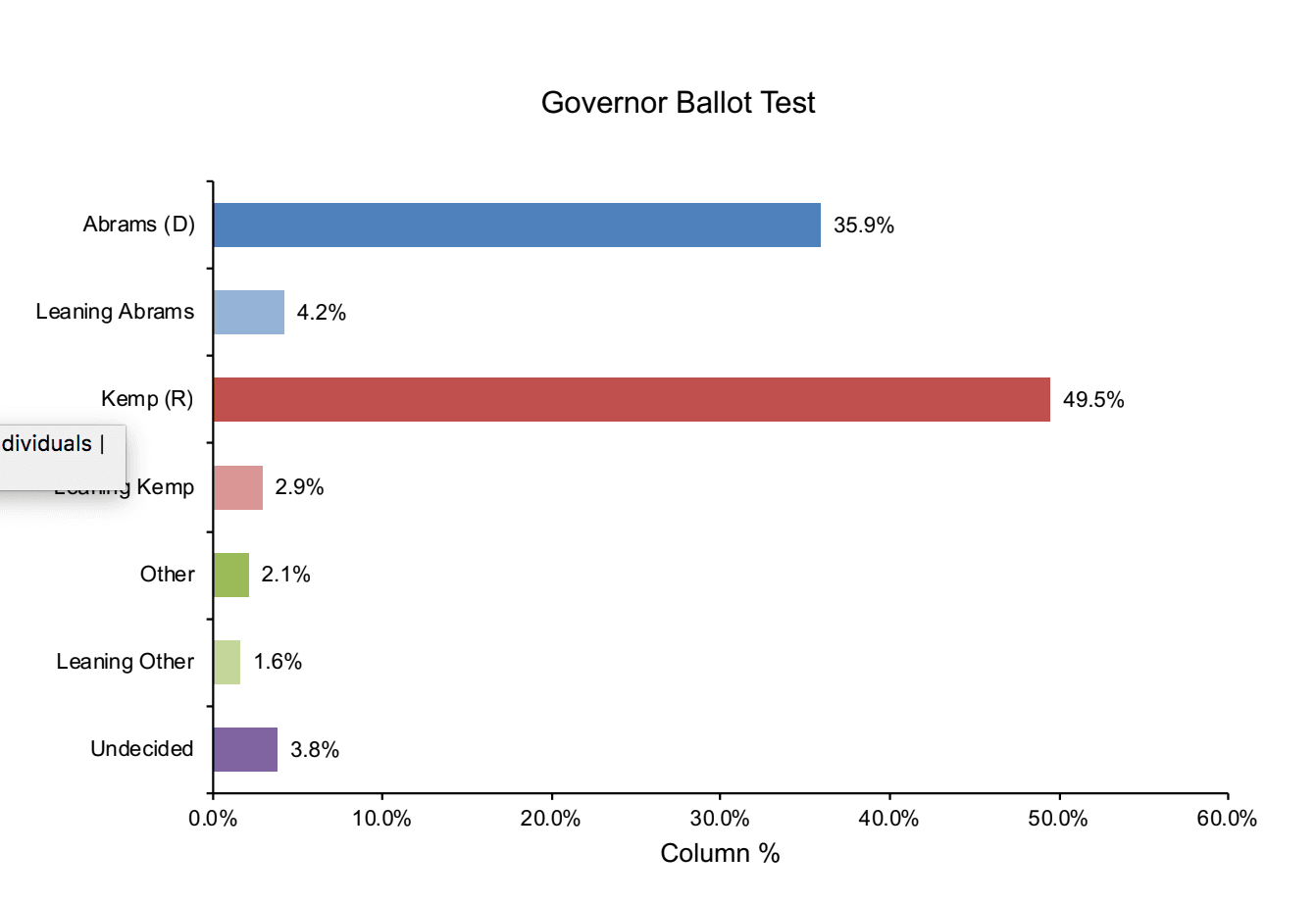 http://feedproxy.google.com/~r/breitbart/~3/JZ7FVQPx9Gk/