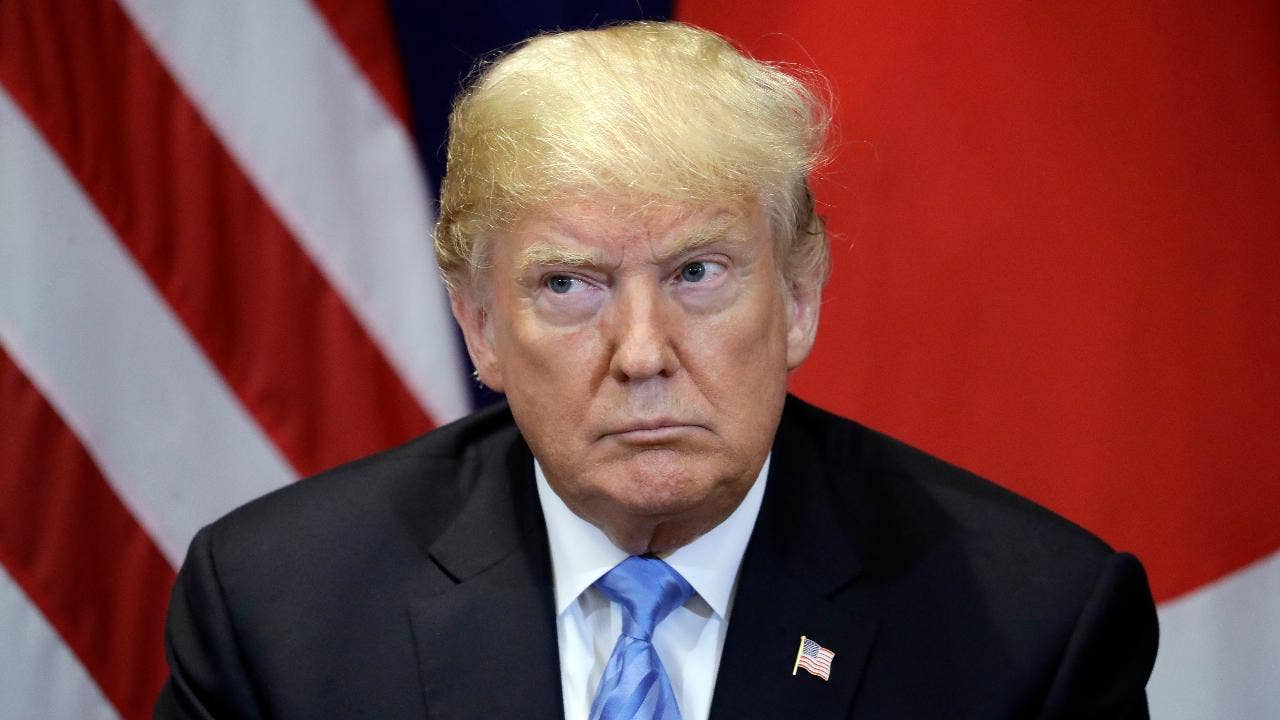 President Trump defended Supreme Court nominee Brett Kavanaugh at a news conference Wednesday, saying that Democrats had "destroyed a man's reputation" with sexual misconduct allegations.
In response to a question from Fox News' John Roberts about why the White House did not ask the FBI to investigate allegations made against Kavanaugh by Christine Blasey Ford, the president responded that "there was nothing to investigate."
"They didn't know the location, they didn't know the time, they didn't know the year. They didn't know anything," Trump said.
The president added that even if an investigation found nothing to corroborate Ford's claims, "it's not going to change any of the Democrats' minds."
"They're obstructionists," Trump went on. "They're actually con artists because they know how quality this man is, and they've destroyed a man's reputation and they want to destroy it even more … And they know it's a big, fat con job. And they go into a room and I guarantee you, they laugh like hell at what they've pulled off on [the media] and on the public."
Trump added that the Democrats' bitter fight against Kavanaugh would backfire on them in the forthcoming midterm elections and predicted that "three, four or five Democrats" would support the judge's confirmation "because they're in states that I won by 30 and 40 points and they're going to give us votes."
The president has repeatedly supported Kavanaugh this week as the federal judge has fended off allegations of sexual misconduct involving his days in high school and college.
Kavanaugh and Ford are scheduled to testify before the Senate Judiciary Committee on Thursday about her allegations, which date back to Kavanaugh's time in high school in the early 1980s.
When asked if he would withdraw Kavanaugh's nomination, Trump answered, "These are all false, to me, these are false accusations in certain cases … I can only say that what they've done to this man is incredible."
However, the president appeared to leave himself some room to maneuver later in the press conference, saying he was open to "changing my mind" if the evidence against Kavanaugh was sufficiently compelling.
"If I thought he was guilty of something like this … yeah, sure," Trump said.
Trump also briefly sparred with CNN reporter Jim Acosta, who requested that the president call on a female reporter to ask about Kavanaugh after him.
"What does he mean by that?" Trump asked rhetorically before saying, "I wouldn't mind that at all."
Earlier Wednesday, Trump expressed frustration with Senate Republicans for delaying a potential vote on Kavanaugh's nomination until Ford could testify.
"I think the Senate, the Republicans, could not be nicer in the way they're handling this," Trump said as he arrived at the United Nations General Assembly in New York. "They could have pushed it through two and a half weeks ago, and you wouldn't be talking about it right now. Which is frankly what I would have preferred, but they didn't do that."
Later Wednesday, Trump lashed out at attorney Michael Avenatti, who represents a woman who alleges that she witnessed Kavanaugh "engage in excessive drinking and inappropriate contact of a sexual nature with women in the early 1980s." Avenatti's client is the third woman to allege misconduct by Kavanaugh back in his school days.
Trump tweeted that Avenatti "is a third rate lawyer who is good at making false accusations … He is just looking for attention and doesn't want people to look at his past record and relationships – a total low-life!"
Avenatti also represents Stormy Daniels, an adult film actress who says she had sex with Trump years before Trump became president.
Fox News' John Roberts and The Associated Press contributed to this report.
http://feeds.foxnews.com/~r/foxnews/politics/~3/kyUdxY7CaZQ/trump-defends-kavanaugh-at-press-conference-says-there-was-nothing-to-investigate.html