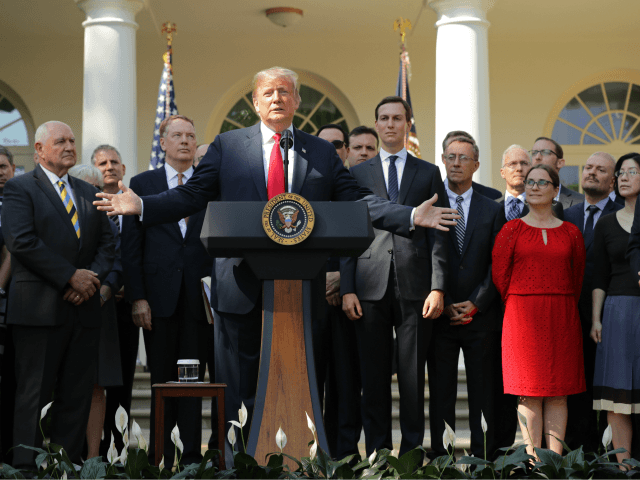 President Donald Trump valued the U.S.-Mexico-Canada Trade Agreement (USMCA) at $1.2 trillion on Monday, thereby replacing NAFTA as the biggest trade deal in U.S. history.
Trump spoke from the White House Rose Garden surrounded by those who have worked on the new USMCA trade deal.
The president called the USMCA "the most important trade deal we've done so far." He called it "truly historic news for our nation." He affirmed that the new deal will "terminate and replace NAFTA and the NAFTA trade agreements."
He said he has long contended that NAFTA was perhaps the worst trade deal ever made, contributing to massive trade deficits. He said under NAFTA the U.S. lost vast amount of money, manufacturing jobs, and one in four auto jobs. On the campaign trail, Trump promised to replace NAFTA. On Monday he remarked the day marked the keeping of that promise.
"The factories were leaving, the jobs were leaving, we just can't have that," said Trump to emphasize the importance of reciprocity. "We've been treated so unfairly by so many nations around the world….we're changing that."
He commented on the updated KORUS agreement with South Korea. He said it added 250,000 jobs to South Korea.
President Trump said the new deal will govern $1.2 trillion in trade which makes it the biggest in U.S. history.
"Nobody understands how hard he's worked," Trump said of the U.S. Trade Representative, "Bob Lighthizer's great." The president said he wanted Lighthizer working on trade in his administration early on, "He felt the way I did."
He thanked the entire team from the U.S. Trade Representative's office, many of whom stood on the podium with him. He also thanked Mexican President Enrique Peña Nieto, calling him a wonderful person who has "really done a great job." He added that he is also "developing a really good relationship" with the incoming Mexican president. He emphasized this is very important.
He gave his highest regards to Candian Prime Minister Justin Trudeau. "It's turned out to be a very good deal for both," said Trump of the new deal.
"This is a terrific deal for all of us," said Trump. He said once finalized, it will be the most modern, up-to-date, and balanced trade agreement in history of America. He said it will be the most advanced in the world with regard to patents. Mexico and Canada have agreed to strong new labor, environmental, and intellectual property standards.
He said the deal will be good for America's farmers. "Mexico and Canada will be opened up a lot more than they are now," said Trump who said it includes provisions opening up markets for U.S. wheat, poultry, eggs and dairy.
Trump said this will support hundreds of thousands of American jobs.
He said this also supports auto workers. The new deal is taking care of problems with parts produced overseas and imported to Canada before then being imported to the United States and have avoided tax by doing so. Trump said these loopholes are closed under the new deal. The deal requires production of parts by high wage workers. "We will be manufacturing many more cars," said Trump who added that companies will not have the same incentive to produce automobiles overseas.
He said it will also strengthen rules of origin requirements. Trump added this will return the U.S. to a "manufacturing power house and allow us to reclaim a supply chain that has been offshore to the world."
President Trump then said this will benefit U.S. pharmaceutical production.
"Anything you submit to congress is trouble," said Trump as the text of the deal is sent to Congress for approval. 
The president broke in to defense of his approach to trade that includes tariffs and efforts to break down trade barriers from other countries. 
Trump told reporters last week at the United Nations General Assembly that he refused a meeting with Canadian Prime Minister Justin Trudeau over a failure on Canada's part of make certain concessions. "His tariffs are too high, and he doesn't seem to want to move, and I've told him forget about it, and frankly, we're thinking about just taxing cars coming in from Canada," said Trump. He added that the U.S. was "very unhappy with the negotiations and the negotiating style of Canada" and that they didn't like Canada's representative Chrystia Freeland.
Joining President Trump on the Rose Garden podium were many individuals including U.S. Trade Representative Robert Lighthizer, Treasury Sec. Steve Mnuchin, Commerce Sec. Wilbur Ross, Economic Council Director Larry Kudlow, DHS Sec. Kirstjen Nielsen, and Senior Advisor to the President Jared Kushner.
Michelle Moons is a White House Correspondent for Breitbart News — follow on Twitter @MichelleDiana and Facebook
http://feedproxy.google.com/~r/breitbart/~3/n4xx8ALLmtw/