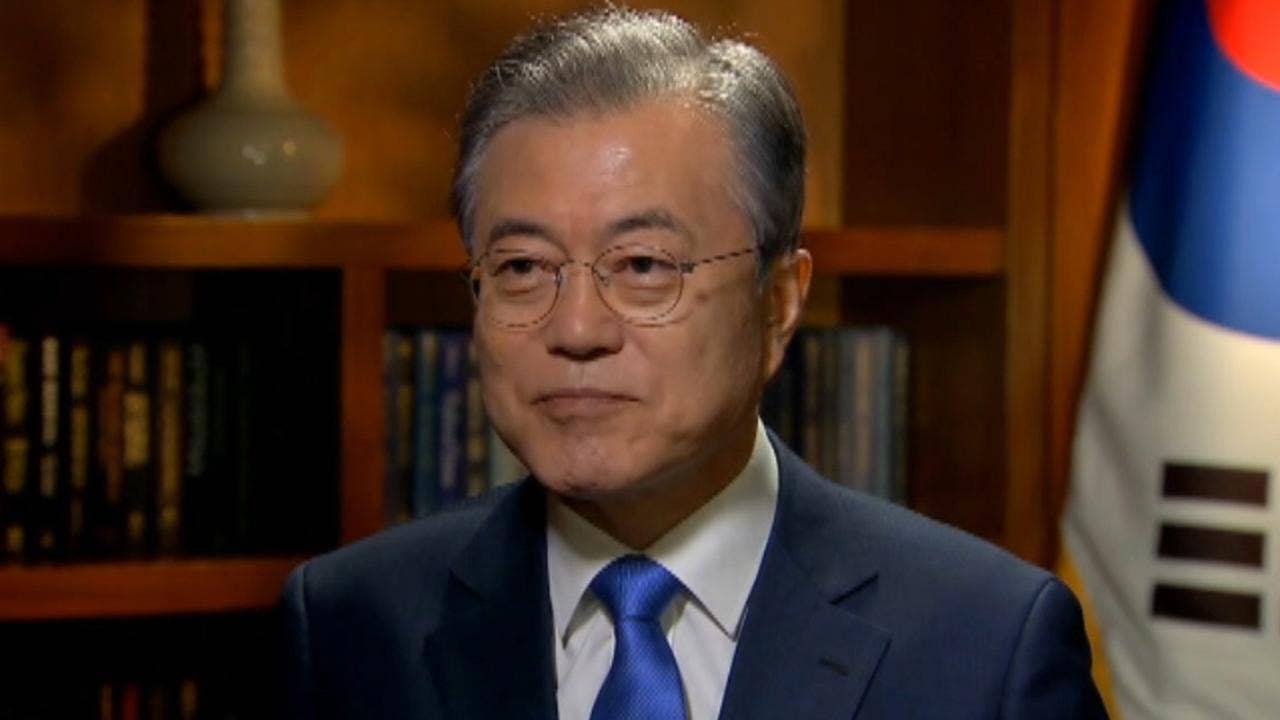 President Trump and North Korean leader Kim Jong Un could meet for a second summit before the end of 2018, according to the South Korean president.
South Korean President Moon Jae-in replied "yes" when asked during an interview with Fox News' Bret Baier whether he expected the two world leaders to meet in the "coming weeks."
CATCH THE FULL INTERVIEW AT 6 PM ET ON 'SPECIAL REPORT'
And when asked whether that meeting could take place "before the end of the year," Moon replied: "Yes, I believe so."
"I traveled to Pyongyang last week and had a very good meeting with Chairman Kim. And through the summit meeting, we had achieved some progress on denuclearization," Moon recounted. "And also, President Trump yesterday congratulated me on the major success of the meeting I had in Pyongyang. And I look forward to a summit meeting taking place between Chairman Kim and President Trump in the not-too-distant future."
TRUMP, AT UN GENERAL ASSEMBLY, SIGNS MAJOR TRADE DEAL WITH SOUTH KOREA, REVEALS POSSIBLE KIM JONG UN MEETING 'SOON'
Moon elaborated on his meeting with the North Korean dictator, saying that he felt he had "ascertained Chairman Kim's commitment to complete denuclearization."
He added that Kim vowed to "permanently dismantle" both a missile engine test site and a launch platform, in addition to destroying "the nuclear facilities in Yongbyon subject to corresponding measures from the United States."
"If the United States could take corresponding measures, then I believe we will be able to expedite North Korea by further denuclearization measures," Moon said.
"For the United States, they promised to end its hostile relations with North Korea to provide security guarantees and also work towards a new U.S., North Korea relations," Moon said. "So, although, all these actions would not happen simultaneously, broadly I believe that these actions need to be taken in parallel."
KOREAS SUMMIT KICK-STARTS STALLED NUCLEAR TALKS WITH US
"So if the United States could provide this kind of trust, I believe that we will be able to accelerate the denuclearization process. This is why I believe that the denuclearization is achievable within the first term of President Trump's term," Moon said.
Moon's interview on Fox News' "Special Report" comes on the heels of Trump and the South Korean leader signing an update to an existing U.S.-South Korea free-trade agreement while the leaders were at the United Nations General Assembly on Monday.
Trump called it a "very big deal" and said the new agreement would make significant improvements to reduce the trade deficit between the countries and create new opportunities to export American products to South Korea.
During his appearance with Moon, Trump also indicated that a second meeting with the North Korean dictator could happen "quite soon."
Fox News' Bret Baier and Frank Miles contributed to this report.
http://feeds.foxnews.com/~r/foxnews/politics/~3/y7eDLRNv564/trump-could-meet-with-kim-jong-un-by-years-end-south-korean-president-tells-fox-news.html