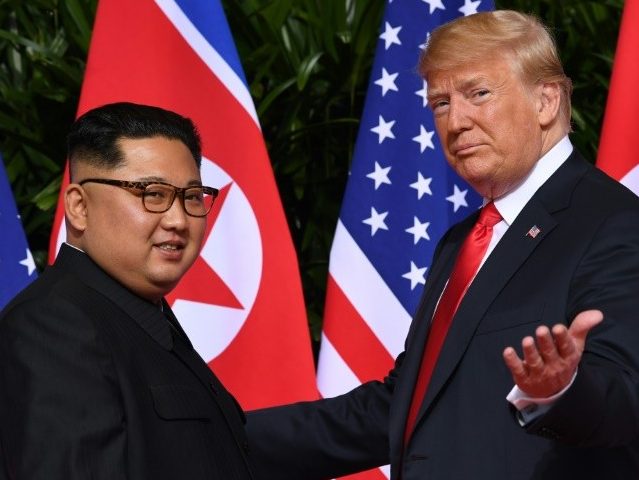 South Korean media reported Monday that Seoul is scrambling to invite the North Korean dictator to the country before the end of the year, shortly after President Donald Trump suggested an early 2019 date for talks with Pyongyang.
"We're getting along very well," Trump said aboard Air Force One on Thursday as he prepared to travel to the G20 summit in Buenos Aires, Argentina. "We have a good relationship with [North Korean dictator] Kim Jong-un."
Asked if the meeting would take place in the U.S., Trump said that it may happen at "some point," although diplomats are currently looking at three other locations for the next summit. The initial summit took place in June in Singapore but Trump has said the next meeting will probably take place at a new location.
The more positive remarks follow months of diplomatic impasse after both sides refused to be the first to give concessions. Last month, Vice President Mike Pence revealed that the regime will not be required to provide a full list of its nuclear and missile sites before the next meeting.
Rather than demanding a declaration of nuclear weapons sites as a prerequisite to a second meeting with Trump, Pence told NBC News that the administration will insist on developing a "verifiable plan" to disclose those sites while the two leaders are in the same room.
"I think it will be absolutely imperative in this next summit that we come away with a plan for identifying all of the weapons in question, identifying all the development sites, allowing for inspections of the sites and the plan for dismantling nuclear weapons," Pence said in an interview with NBC. His comments came despite the release of commercial satellite images indicating the existence of over a dozen undeclared North Korean missile operating bases.
South Korea's President Moon Jae-in said that Trump had asked him to send a message to Kim should he visit Seoul later this year, claiming Trump told him he had a "very amicable view" of Kim and that he now hoped to "implement the rest of the agreement."
Moon is currently pushing for Kim to visit Seoul before the end of the year, in what would be the first official visit from a North Korean leader to the capital since the end of the Korean War. The invitation forms part of his government's policy to push through peace negotiations in a bid to end hostilities between the two countries.
"We remain unchanged in our stance that (Kim's visit) will be possible and necessary before the end of this year," Baik Tae-hyun, a foreign ministry spokesman, said in a press briefing. "We will calmly make the relevant preparations and efforts for agreements reached between the two Koreas to be carried out without a problem."
Follow Ben Kew on Facebook, Twitter at @ben_kew, or email him at bkew@breitbart.com.
http://feedproxy.google.com/~r/breitbart/~3/4duTbbcmOeU/