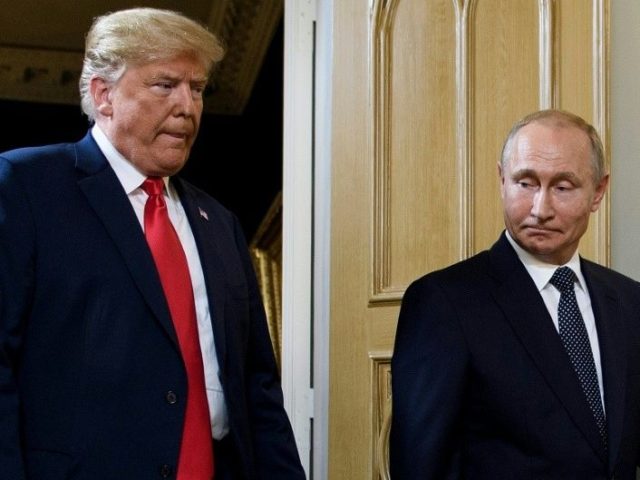 The Kremlin on Thursday claimed a meeting between Presidents Donald Trump and Vladimir Putin would proceed as planned on Saturday at the G-20 summit in Buenos Aires, Argentina, but a few hours later President Trump canceled the meeting.
Trump said he would not meet with Putin because Russia seized three Ukrainian ships and their crew on Sunday.
Trump suggested he might cancel the meeting during an interview with the Washington Post on Monday and reiterated his reservations on Thursday.
"I'm getting a full report on that tonight. That will be very determinative. Maybe I won't have the meeting. Maybe I won't even have the meeting. We're going to see, depending on what comes out tonight," Trump said on Monday when the Washington Post asked him about the Russia-Ukraine conflict in the Kerch Strait.
"I don't like that aggression. I don't want that aggression at all. Absolutely. And by the way, Europe shouldn't like that aggression. And Germany shouldn't like that aggression," Trump added, singling out Germany because he charged it has not spent enough on defense, and because Germany is working with Russia on the Nord Stream 2 gas pipeline.
The pipeline would allow Russia to pump gas to Europe without shipping it through Ukraine, a disturbing fact that is not lost on the Ukrainians or anyone else living east of Germany. As of Thursday morning, the German government insisted the pipeline and Russian aggression against Ukraine are "two separate questions."
However, German Chancellor Angela Merkel stated on Thursday that the confrontation in the Kerch Strait was "entirely the doing of the Russian president" and said Moscow may have violated the 2003 bilateral treaty between Russia and Ukraine governing movement through the Sea of Azov. Merkel called for the immediate release of the Ukrainian soldiers captured by Russia during the incident, a demand also made by NATO.
The Kremlin immediately responded on Monday that the Trump-Putin meeting has been "finalized" and Russia had "no other information from our U.S. counterparts."
"We are expecting the two presidents to speak briefly at first, but everything is left to the discretion of the heads of state. Washington has confirmed," Kremlin spokesman Dmitry Peskov repeated on Thursday.
Trump himself said on Thursday he would "probably" speak with Putin in Buenos Aires and confirmed his administration has not "terminated that meeting," but added he expected to receive an important report about the Ukrainian situation while en route to Argentina.
The president apparently got that report and did not like what he read, because he canceled the meeting with Putin via Twitter from aboard Air Force One:
Based on the fact that the ships and sailors have not been returned to Ukraine from Russia, I have decided it would be best for all parties concerned to cancel my previously scheduled meeting….

— Donald J. Trump (@realDonaldTrump) November 29, 2018
….in Argentina with President Vladimir Putin. I look forward to a meaningful Summit again as soon as this situation is resolved!

— Donald J. Trump (@realDonaldTrump) November 29, 2018
CNBC, among other media outlets, quickly insinuated that Trump canceled the meeting with Putin not because of the Ukraine crisis, but because his former lawyer Michael Cohen "pleaded guilty to lying to Congress about the president's involvement in an aborted real-estate deal in Moscow."
"Trump's cancellation of the formal scheduled meeting does not mean that members of the American delegation to the G-20 summit will not meet with their Russian counterparts. Nor does it mean that Trump and Putin will not speak to each other there," CNBC added.
Another possibility left open by the wording of President Trump's cancellation is that he might agree to meet with Putin if the Ukrainian ships and their crews are returned by Russia. Russia has thus far ignored international demands for the release of the 24 captive Ukrainians and indicated they will be held for at least two months.
http://feedproxy.google.com/~r/breitbart/~3/jhuwmblcfPs/