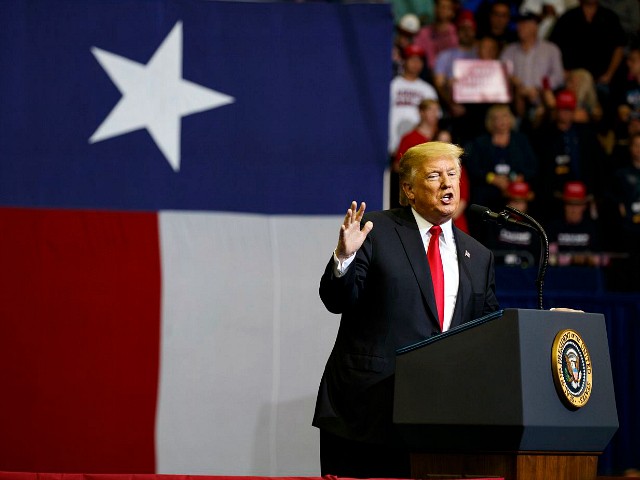 During President Donald Trump's Monday night rally in Houston, he mentioned Beto O'Rourke's F-rating from the NRA and said the rating means "he wants to take away your guns."
Trump segued into Beto O'Rourke's gun positions by referencing a conversation with Sen. Ted Cruz (R-TX), in which Cruz mentioned O'Rourke's failing grade.
Trump said, "To me this a beauty, I don't know of anyone that's earned this rating, [but] he got an F from the NRA." Trump continued, "You know what an F means? An F means he wants to take away your guns."
Last month, Breitbart News reported on a February interview O'Rourke gave to CBS News. In that interview, O'Rourke voiced his opposition to commonly owned semiautomatic rifles and said, "I just don't think we should be selling AR-15s in this country."
On April 9, 2018, interview with KFYO, O'Rourke described commonly owned semiautomatic rifles as "weapons of war" and said, "I've come to the conclusion that we should not be selling these weapons of war in this country, and not expect them to turn up in our schools, in our concerts, and in our churches."
During an October 18, 2018, CNN town hall, O'Rourke praised Texas gun heritage and then called on Texas to step up and lead the nation in a gun control conversation. He pushed a number of gun controls at the town hall and swelled the number of annual gun violence deaths by 66 percent, as the larger-than-reality number makes gun control arguments more convincing.
O'Rourke said it is time for Texas to have a Senator "who could not care less about what the NRA or the gun lobby, or another political action committee thinks."
Beto O'Rourke is running against Sen. Ted Cruz in the Texas U.S. Senate election November 6.
AWR Hawkins is an award-winning Second Amendment columnist for Breitbart News, the host of the Breitbart podcast Bullets with AWR Hawkins, and the writer/curator of Down Range with AWR Hawkins, a weekly newsletter focused on all things Second Amendment, also for Breitbart News. He is the political analyst for Armed American Radio. Follow him on Twitter: @AWRHawkins. Reach him directly at awrhawkins@breitbart.com. Sign up to get Down Range at breitbart.com/downrange.
http://feedproxy.google.com/~r/breitbart/~3/PDxxZ_65G08/