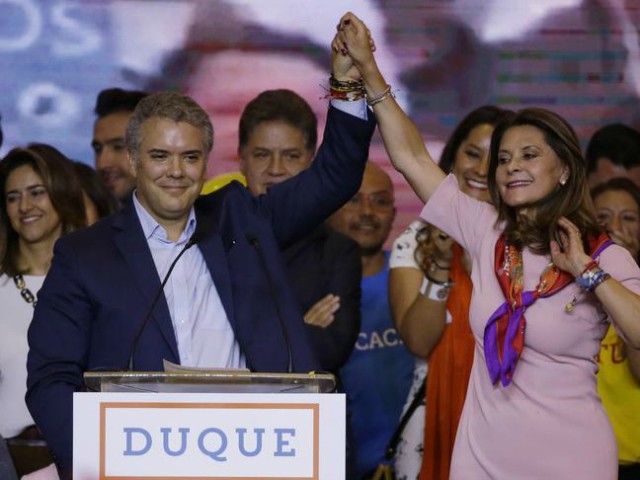 U.S. President Donald Trump, while speaking at the United Nations General Assembly Monday, attributed hardline conservative Iván Duque's recent presidential election victory over his leftist opponent in Colombia to his aggressive anti-drugs policy at a time when the country is reportedly producing more cocaine than ever.
Colombia is once again the world's top supplier of cocaine, which is helping to fuel the unprecedented number of fatal drug overdoses in the United States.
The U.S. has attributed the increase in cocaine manufacturing in Colombia to the peace deal between the now demobilized Revolutionary Armed Forces of Colombia (FARC) terrorist group and the government of Colombia, particularly the immunity deals that benefit leaders of the terrorist group, considered one of most prominent narco-trafficking organizations in Latin America.
During the high-level event at the U.N. General Assembly in New York on Monday, dubbed the "Global Call to Action on the World Drug Problem," U.S. President Trump declared, "Newly elected President Duque, Colombia, campaigned on an anti-drug platform and won a very, very impressive victory. Congratulations. We look forward to partnering with his new administration to eradicate coca production in his country. All of us must work together to dismantle drug production and defeat drug addiction."
On Twitter, President Duque welcomed Trump's comments, thanking his U.S. counterpart for recognizing the "commitment of our government to the fight against drug trafficking," adding that international cooperation, without a doubt, is a fundamental tool."
A White House report issued in June acknowledged that coca leaf cultivation, the chief ingredient in cocaine, reached record highs last year.
Citing the report, Voice of America noted, "Annual data for 2017 says coca cultivation rose 11 percent to 209,000 hectares (516,450 acres), a level unseen in more than two decades of record keeping and $10 billion in U.S. counter-narcotics work. Estimated cocaine production increased 19 percent to 921 metric tons."
U.N. Secretary-General Antonio Guterres, who also delivered remarks during Monday's anti-drug event, acknowledged that the production of opium, the primary ingredient in heroin, and cocaine had reached unprecedented levels.
"The situation is alarming. Opium production and the manufacturing of cocaine … has never been higher," he said.
Both Trump and Guterres urged the international community to combat drug addiction and traffickers.
On June 17, conservative Duque won Colombia's presidency, defeating his leftist opponent and former the mayor of Bogotá, Gustavo Petro, by receiving almost 54 percent of the ballots. Petro only got 41 percent of the vote. More than half of the country's 36 million eligible voters reportedly went to the polls.
President Duque has been a public critic of the FARC peace deal.
In late May, the Washington Times noted in June that President Duque is expected to create "what would be one of Latin America's most conservative governments and a rare potential ally for the Trump administration in the region."
Duque vowed to crack down on drug trafficking and prosecute FARC leaders.
The Times pointed out:
The flow of Colombian cocaine and, increasingly, heroin, has tripled in the past five years, according to U.S. anti-drug agencies, and is seen as a major shortcoming of the peace deal with the leading guerrilla force, known as the Revolutionary Armed Forces of Colombia, or FARC.

Colombian conservatives have long complained about concessions Mr. Santos agreed to with the FARC, and now Mr. Duque vows to prosecute FARC guerrilla leaders accused of terrorism and narcotrafficking who are otherwise pardoned under the original peace accord.
The Washington Times reported that the majority of Colombians reject Bogotá's peace deal with the FARC.
In the United States last year, cocaine killed an estimated 14,614 people and heroin another 15,950, the latest data from the U.S. Centers for Disease Control and Prevention (CDC).
According to the U.S. government, most of the illicit drugs — namely heroin and cocaine — fueling the drug-related deaths originate in Latin America.
President Trump noted on Monday, "As we know, illicit drugs are linked to organized crime, illegal financial flows, corruption, and terrorism. It's vital for public health and national security that we fight drug addiction and stop all forms of trafficking and smuggling that provide the financial lifeblood for vicious transnational cartels."
The U.N. chief proclaimed on Monday that illicit drugs kill nearly half a million people globally each year, a number that dwarfs the 26,400 people killed by terrorists across the world in 2017.
U.S. officials have designated the FARC — one of Colombia's most prominent drug trafficking organizations — a foreign terrorist organization.
http://feedproxy.google.com/~r/breitbart/~3/U0ZMzZQT8w4/