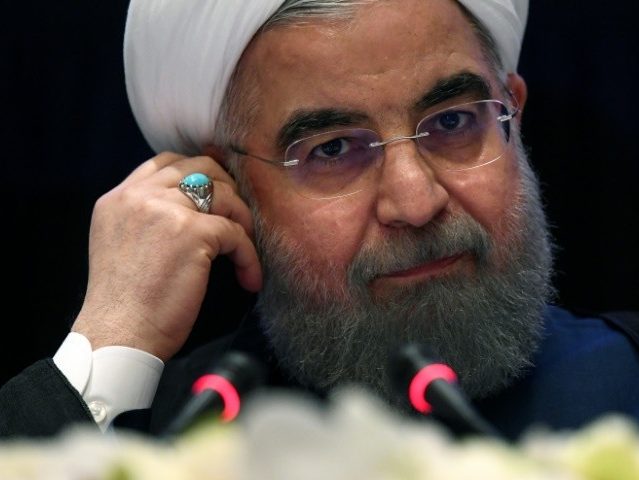 Both U.S. President Donald Trump and Iranian President Hassan Rouhani said on Monday they have no plans to meet at the U.N. General Assembly, refuting speculation that a summit meeting between the two might occur.
Rouhani nixed the idea of a meeting during an interview with NBC Nightly News, saying there is "no program" for a summit with Trump.
"Naturally, if someone is keen on having a meeting and holding dialogue and creating progress in relationships, that person would not use the tool of sanctions and threats to bear all of its power against another government and nation. That means that the necessary willpower is absent in order to resolve outstanding issues," Rouhani said.
Trump expressed his lack of enthusiasm for a meeting with Rouhani via Twitter:
Despite requests, I have no plans to meet Iranian President Hassan Rouhani. Maybe someday in the future. I am sure he is an absolutely lovely man!

— Donald J. Trump (@realDonaldTrump) September 25, 2018
Rouhani said if Trump really wants a meeting, he will offer reparations for the damage done to Iran by America's exit from the nuclear deal. That damage is considerable indeed, as a glance at this amazing chart of the drop in Iranian crude oil production reveals:
Iran crude oil production over past 12 months > pic.twitter.com/NWZNjtw1dj

— Henry Rome (@hrome2) September 25, 2018
Iran was banking very heavily on strong income from renewed oil sales after President Barack Obama lifted sanctions. Iran's refusal to curb production in concert with OPEC so oil prices could stabilize was one reason the oil glut of the last few years was such a lingering crisis. Iran essentially declared oil war on its rivals in Saudi Arabia and now U.S. sanctions have effectively paralyzed the Iranian oil industry.
Despite Rouhani's defiance, Tehran's problems will get a lot worse after a tougher round of U.S. sanctions goes into effect in November. The current plunge in Iranian sales and the sharp uptick in oil prices is largely due to its customers clearing out before the November tranche of sanctions hits. Analysts expect prices to rise again if the U.N. General Assembly concludes without any progress on repairing U.S.-Iranian relations. At the moment, it's more likely relations will be worse after Trump and Rouhani deliver their respective speeches.
Rouhani has a few cards to play. The year-end shortages analysts predicted would theoretically apply pressure to Trump if U.S. consumers see pump prices ticking up. OPEC and Russia have thus far refused to increase production to offset the loss of Iranian oil.
Iran will likely play for sympathy at the United Nations over the recent terrorist attack it suffered.
Tensions between the U.S. and European nations over Trump's withdrawal from the Iran nuclear deal could boil over at the General Assembly. The Europeans are still trying to help Tehran escape the worst impact of U.S. sanctions, as the E.U. announced on Tuesday it will create a new payment system that will help European companies continue doing business in Iran.
India is also seeking a waiver from U.S. sanctions to buy Iranian oil and might create its own alternative payment system if the request is not granted.
If all else fails, there is always good old-fashioned cheating. Iranian oil tankers are starting to disappear from GPS tracking, possibly because the ships are turning off their transponders to "go dark" for sanctions-busting oil shipments after November.
In his speech to the U.N. General Assembly, President Trump said he would not meet with Iran until even tougher U.S. sanctions persuade its leaders to change their attitude.
"I'm not meeting with them until they change their tune. It will happen. I believe they have no choice. We look forward to having a great relationship with Iran, but it won't happen now," he said.
http://feedproxy.google.com/~r/breitbart/~3/9krtWaDQRmQ/