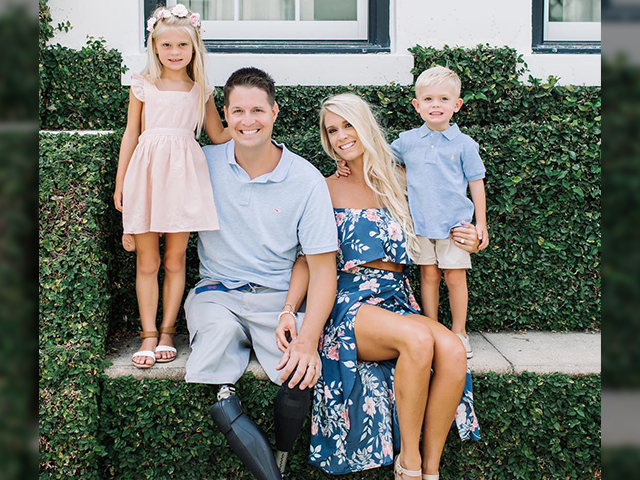 Air Force veteran Brian Kolfage is vowing to fight Facebook CEO Mark Zuckerberg — all the way up to Supreme Court if necessary — if the social media giant does not reinstate his Facebook pages, which Facebook deleted without warning or explanation.
"I'm going to take the fight to Facebook. No one has ever done it. You can tell the rage I have over this whole thing," Kolfage said in an interview with Breitbart News Daily Sirius XM host and Breitbart News Editor-in-Chief Alex Marlow on Friday.
"We are not going to stop until Facebook is held accountable on this for everybody. This is not about me. This is about free speech and this is about what they are doing to Americans," he said.
Kolfage, who lost three limbs fighting in the Iraq War in 2004, was the administrator of the widely-read conservative Right Wing News page on Facebook, which had more than three million followers. He also founded a coffee company, Military Grade Coffee, which had more than 200,000 customers and is how he makes a living for his family.
But earlier this month, Facebook deleted both pages, without warning and without explanation. When Facebook rolled out new rules nine months ago, Kolfage contacted Facebook to make sure his pages were in compliance.
After months of emailing, he finally had a scheduled appointment with a Facebook executive on October 3, 2018. However, after he raised more than $600,000 in support of Supreme Court Justice Brett Kavanaugh, Facebook canceled the meeting and deleted both of his pages. To add insult to injury, Kolfage had over the years dropped more than $300,000 in advertising on his pages.
Kolfage said before Kavanaugh, there was never any problem with his page.
"I'm being punished for my beliefs — I truly believe it," Kolfage. "It's truly about who we are and our beliefs…right before the elections — it couldn't be more blatant what's going on."
"We need to come together and Zuckerberg needs to get hauled into court," he said. "We're going to take him all the way to Supreme Court if we have to. We're going to fight for the American people and we're going to fight for everyone who's been screwed over by them."
Although Kolfage is a veteran and a triple amputee, he said his fight is about his freedom of speech and conservative censorship.
"This isn't about me. This is about free speech," he said. "Everyone should be rallying around this. Everyone should be pissed off about this. Regardless of my politics, they came after my primary source of income because of my politics, and that's what's wrong. And that's why everyone should be rallying around me."
However, the irony that he fought and sacrificed for American rights and values such as freedom of speech and is now being denied those same rights does not escape him.
"I can't let my sacrifice just fall by the wayside. I can't let it fall by the wayside for my family, the people I love, the country I love. I've given way too much, way too much," he said.
As a triple amputee, he says life is just getting harder and harder. He said as his young children grow up, he is discovering there is more that he cannot do with them, such as playing soccer.
"They just started playing soccer. I can't kick the damn soccer ball with them and help them learn how to play soccer," he said. And now, he said, Facebook is kicking him down.
"I"m seeing that I can't do stuff with my kids…and then Facebook over here and these tech companies are just kicking me," he said.
He also notes that his friends in the liberal and mainstream media outlets are refusing to cover his plight or not answering his emails.
"It shows where the line in the sand is drawn. I know who's contacted me and who hasn't contacted me," he said. "I have friends at CNN — I contacted them. They won't even email me back over it. And it's bullcrap."
Kolfage has started a page at www.fight4freespeech.com. "I really need people to go to this website and sign up and support me," he said.
"I'm not going to stop. I'm going to see this one through and kick a field goal, and you're going to see Zuckerberg's little skinny butt in court."
http://feedproxy.google.com/~r/breitbart/~3/n7aeykFi-rs/