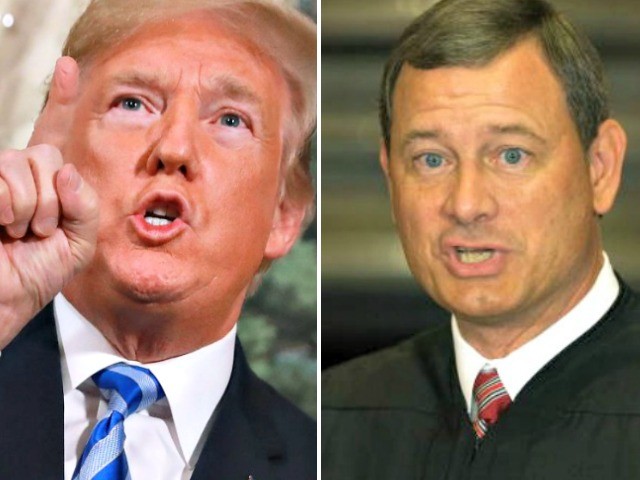 South Carolina Congressman Trey Gowdy shares President Trump's opinion that the courts are partisan — even though he wishes they were not.
Last week POTUS and Supreme Court Chief Justice John Roberts publicly squared off about the condition of the courts. Trump called U.S. District Judge Jon Tigar an "Obama judge" after he ruled to restrain the president from denying asylum to illegal immigrants.
Roberts responded with a statement asserting that "we do not have Obama judges or Trump judges, Bush judges or Clinton judges," but rather "an extraordinary group of dedicated judges doing their level best to do equal right to those appearing before them." He concluded by saying we should "all be thankful" that such an independent judiciary exists.
Of course, Trump fired back from Mar-a-Lago, tweeting: "Sorry Chief Justice John Roberts, but you do indeed have 'Obama judges,' and they have a much different point of view than the people who are charged with the safety of our country."
Even a Washington Post columnist disputes Justice Roberts' assertion of political neutrality within the courts, calling his public scrap with the President an action in "bad form" which "undermines the very judicial independence Roberts is seeking to uphold."
Now, South Carolina Rep. Trey Gowdy has added his own voice to the conversation. Appearing on Sunday's Face the Nation on CBS, the former federal prosecutor said, "I wish Chief Justice Roberts were right. I wish there were not a politicization of the judiciary. But it's not just politicians." Gowdy believes the problem is also tied to partisan media:
Every print article that you will go find this afternoon refers to judges based on the president that put him or her in office. And you see terms like conservative, and ultra conservative, and liberal, and moderate, which are political terms but they're used to describe judges.

So I wish Chief Justice Roberts were right. I wish that we did not refer to judges based on which president put them in office as if that is somehow going to inextricably lead us to the conclusion. But it's been happening since I was a kid. It's been happening for 50 years that we have used political terms to describe judges.
"I wish we would stop," he lamented, "but President Trump is not the first person to do it." In fact, Gowdy said, "I think President Obama criticized the Supreme Court to their face in the State of the Union. So I wish everyone would stop, including the media, referring to judges based on which president put them in office."
To Gowdy, this a problem that goes far beyond bickering on Twitter. Unfortunately, in his opinion, the problem is systemic — despite wishing it were otherwise.
http://feedproxy.google.com/~r/breitbart/~3/TKIycrn2aBE/