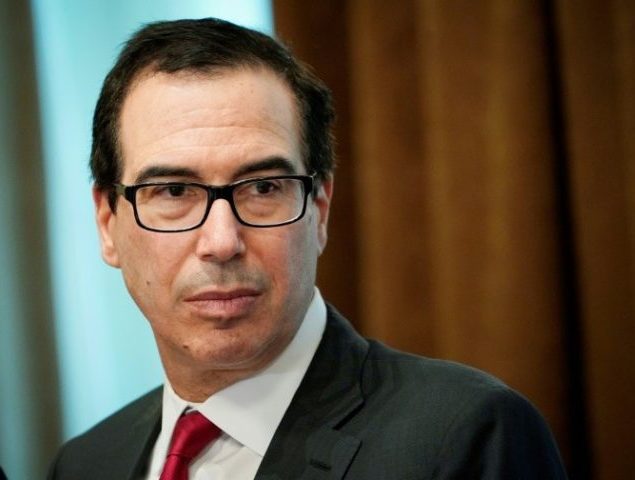 Treasury Secretary Steve Mnuchin ended speculation Thursday morning when he announced he will, indeed, skip the Future Investment Initiative summit in Saudi Arabia.
Mnuchin met with Secretary of State Mike Pompeo and President Donald Trump Thursday morning. Pompeo just returned from a trip to Saudi Arabia during which he met with Saudi leaders regarding the alleged murder of Saudi reporter Jamal Khashoggi. Trump had ordered Pompeo to Saudi in the wake of Khashoggi's disappearance.
Mnuchin announced Thursday morning he met with Pompeo and Trump and was pulling out of the Future Investment Initiative summit in Saudi Arabia:
Just met with @realDonaldTrump and @SecPompeo and we have decided, I will not be participating in the Future Investment Initiative summit in Saudi Arabia.

— Steven Mnuchin (@stevenmnuchin1) October 18, 2018
White House press secretary Sarah Sanders reaffirmed the news:
Treasury Secretary @stevenmnuchin1 will not attend Summit in Saudi Arabia. https://t.co/DZPvHwX74P

— Sarah Sanders (@PressSec) October 18, 2018
Shortly after the announcement, President Trump updated the world about his meeting with Pompeo: 
"Secretary of State Mike Pompeo returned last night from Saudi Arabia and Turkey. I met with him this morning wherein the Saudi situation was discussed in great detail, including his meeting with…," Trump tweeted, continuing, "…the Crown Prince. He is waiting for the results of the investigations being done by the Saudis and Turkey, and just gave a news conference to that effect."
Turkey has accused Saudi Arabia of murdering the journalist, who was last seen on video entering the Saudi Arabian consulate in Turkey.
Pompeo spoke with the press following his meeting with the president about his meetings with the King of Saudi Arabia, crowned prince, foreign minister, and U.S. counterparts there. He communicated that he made clear that the U.S. takes the disappearance of Mr. Khashoggi "very seriously." They said they understood and assured him they would conduct a thorough, timely, and transparent investigation into the matter. Pompeo communicated to Trump that they should give the Saudis a "few more days" to complete that investigation. He further communicated the long and important relationship between Saudi Arabia and the United States:
.@StateDept @SecPompeo outside of the West Wing after our meeting this morning in the Oval Office… pic.twitter.com/4GrmMdOhS1

— Donald J. Trump (@realDonaldTrump) October 18, 2018
Michelle Moons is a White House Correspondent for Breitbart News — follow on Twitter @MichelleDiana and Facebook.
http://feedproxy.google.com/~r/breitbart/~3/R8dX0bJM8W4/