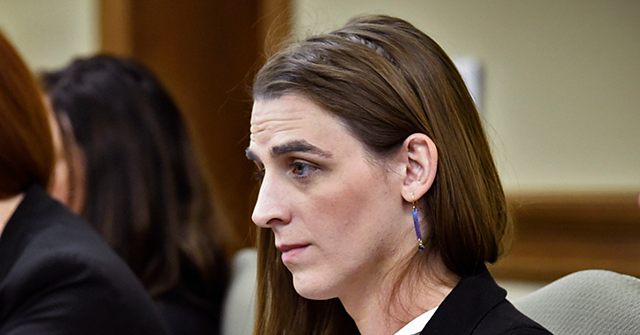 A male Democrat legislator, who claims to be a woman, told Republican legislators in Montana that they should be ashamed for protecting girls and boys from the transgender ideology.
The legislator, Zooey Zephyr, claimed that protection legislation would "torture" teenagers who want to escape the normal course of puberty and then claimed it would cause "bloodshed," saying:
This body should be ashamed … If you vote yes on this bill and yes on these amendments I hope the next time there's an invocation, when you bow your heads in prayer, you see the blood on your hands.
Republican legislators responded to the indirect threat by calling for the legislator. Zephyr, to be censured:
This kind of hateful rhetoric from an elected official is exactly why tragedies such as the Covenant Christian school shooting in Nashville occurred. Combined with former Montana Supreme Court Justice Jim Nelson's recent calls for "Jihad" and a "fight to the death," there is unmistakable evidence of a desire for some to engage in violence over political beliefs. This must stop.
"Trans people exist," State Rep. Zooey Zephyr of Montana said, as she rebuked a bill that would ban gender-affirming care for transgender minors, adding that denying care is "tantamount to torture." Zephyr is the Legislature's first transgender lawmaker. https://t.co/Gr5rAT8dCp pic.twitter.com/he8Q2W3ats

— The New York Times (@nytimes) April 21, 2023
Republican legislators in many states are passing laws to contain the transgender ideology which seeks to suppress legal distinctions between the two complementary male and female sexes.
The suppression would give government officials and their political allies the power to manage the civic conflicts and personal damage that is caused by the suppression of knowledge about women and men. The civic chaos also creates economic opportunities for medical companies.
In Montana, Republicans passed legislation saying that each person's sex is determined by measurable biology, not feelings of "gender," and curbs the use of 'transgender" medical treatments against children,
Zephyr's attempt to intimidate Republicans with threats of violence is part of a national trend that is being accelerated by President Joe Biden's White House:
Holy fck! – we need to share this pic.twitter.com/UfQzb8pCp5

— stephen hilton (@stephenhilton23) April 19, 2023
The Montana threat comes as Democrats try to hide the motivations for the murder of six Americans in Nashville by a woman who claimed to be a transgender man.
However, opposition by the GOP and the public is being strengthened as more survivors "detransition" from the transgender ideology:
Prisha Mosley testified before the South Carolina Senate about her devastating experience with 'gender affirming care' and the pain she suffers with because of her medicalized transition, which began as a minor.

If you watch one thing today, it should be this. @detransaqua pic.twitter.com/xuv9RK7UwC

— Independent Women's Forum (@IWF) March 24, 2023
🚨🚨🚨 An employee at a child gender clinic admits that children's mental health worsened once they started puberty blockers, that treatments harmed more kids than it helped, and workers were forbidden from expressing concern for the safety of the children.

These experiments… pic.twitter.com/uodkvk6JIF

— Gays Against Groomers (@againstgrmrs) April 17, 2023
WTF are we even talking about here?!? Where are the fathers? Where are the noble men who stand up for women? What the hell happened to the American people? Who are you living for? You will watch our daughters get pissed on to genuflect to ideologues?!? pic.twitter.com/60CzSe83j2

— Theo Jordan (@Theo_TJ_Jordan) March 2, 2023
Public opposition is also rising as more men try to break into the female side of Americans' society:
Why are men allowed to mock women so openly and be protected from criticism under the Trans umbrella?
🏳️‍⚧️☂️

— Oli London (@OliLondonTV) April 21, 2023
https://www.breitbart.com/health/2023/04/21/transgender-democrat-claims-bloodshed-stop-republican-protections/