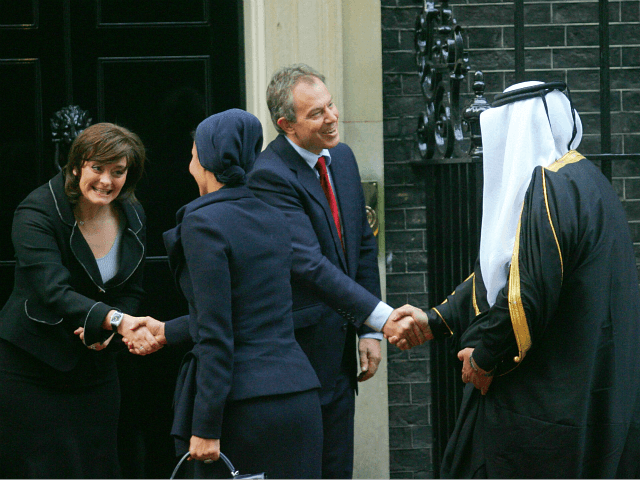 Former Labour leader Tony Blair has admitted there is a "nascent alliance" between Islamists and the political left in Britain.
In a wide-ranging interview focusing mainly on his desire to overturn the British public's vote for Brexit in 2016, the controversial 65-year-old told Sophy Ridge of Sky News: "There is, I'm afraid, there is a kind of nascent alliance between what I would call bits of the sort of Islamist type of politics and the left."
"And you can see this not just here in the UK, you can see it across Europe — and yes, it gives rise to anti-Semitism. It's not your old traditional anti-Semitism of the old kind of right-wing nature of, you know, not wanting Jewish people in golf clubs and that type of thing, but it's every bit as pernicious and, you know, to have a situation where you've got Labour MPs worried because they happen to be Jewish, I mean…" Blair added, trailing off.
UK Left: Labour Group REJECTS Pittsburgh Killings Motion, Too Much 'Anti-Semitism This, Anti-Semitism That' https://t.co/TnPWxeTEuD

— Breitbart London (@BreitbartLondon) November 5, 2018
Several of Labour's Muslim politicians have been implicated in anti-Semitism scandals in recent years, such as Shadow Minister of State for Women and Equalities Naz Shah.
Shah was briefly suspended from the party over posting anti-Semitic remarks such as "The Jews are rallying" on social media — although she was not disciplined for liking and retweeting a comment saying that "abused girls in Rotherham and elsewhere just need to shut their mouths for the good of diversity" at a later date.
Hard-left party leader Jeremy Corbyn, too, has come under fire for previous remarks that British-born "Zionists" struggle to understand "English irony", and for allegedly participating in a Tunisian wreath-laying ceremony for the Black September terrorists who murdered Jewish athletes at the 1972 Summer Olympics in Munich.
But Labour doesn't have an anti-Semitism problem, right? https://t.co/AodBOd5agr

— Breitbart London (@BreitbartLondon) November 11, 2017
Blair seemed confident that there would be no issues with Labour and anti-Semitism if he was still in charge, asking Ridge: "Can you imagine that, when I was leader of the Labour Party, having a conversation with me about whether anti-Semitism is in the Labour Party or not?"
"I would have thought, you know, we wouldn't even have that conversation," the Iraq War architect bragged.
This could be open to debate, however, as Blair's tenure as leader saw the party criticised for using campaign posters against depicting Michael Howard, an ethnically Jewish leader of the Tory leader in the period, as a figure resembling Fagin, the Jewish crook who groomed children as pickpockets in Oliver Twist.
Blair himself was also accused of being "unduly influenced by a cabal of Jewish advisers" by the now deceased Labour MP Tam Dalyell.
His premiership also saw a marked in targeted violence against Jewish people as the Muslim population increased as a result of his policy of encouraging mass immigration, with anti-Semitic attacks more than doubling during his second term as Prime Minister, according to Jewish columnist Melanie Phillips.
Hungary PM: Soros Responsible for Increasing Anti-Semitism in Europe by Encouraging Islamic Immigration https://t.co/kOHPKIM2ER

— Breitbart London (@BreitbartLondon) May 19, 2018
Follow Jack Montgomery on Twitter:

 @JackBMontgomery
Follow Breitbart London on Facebook:

 Breitbart London
http://feedproxy.google.com/~r/breitbart/~3/h165Mqg_Trw/