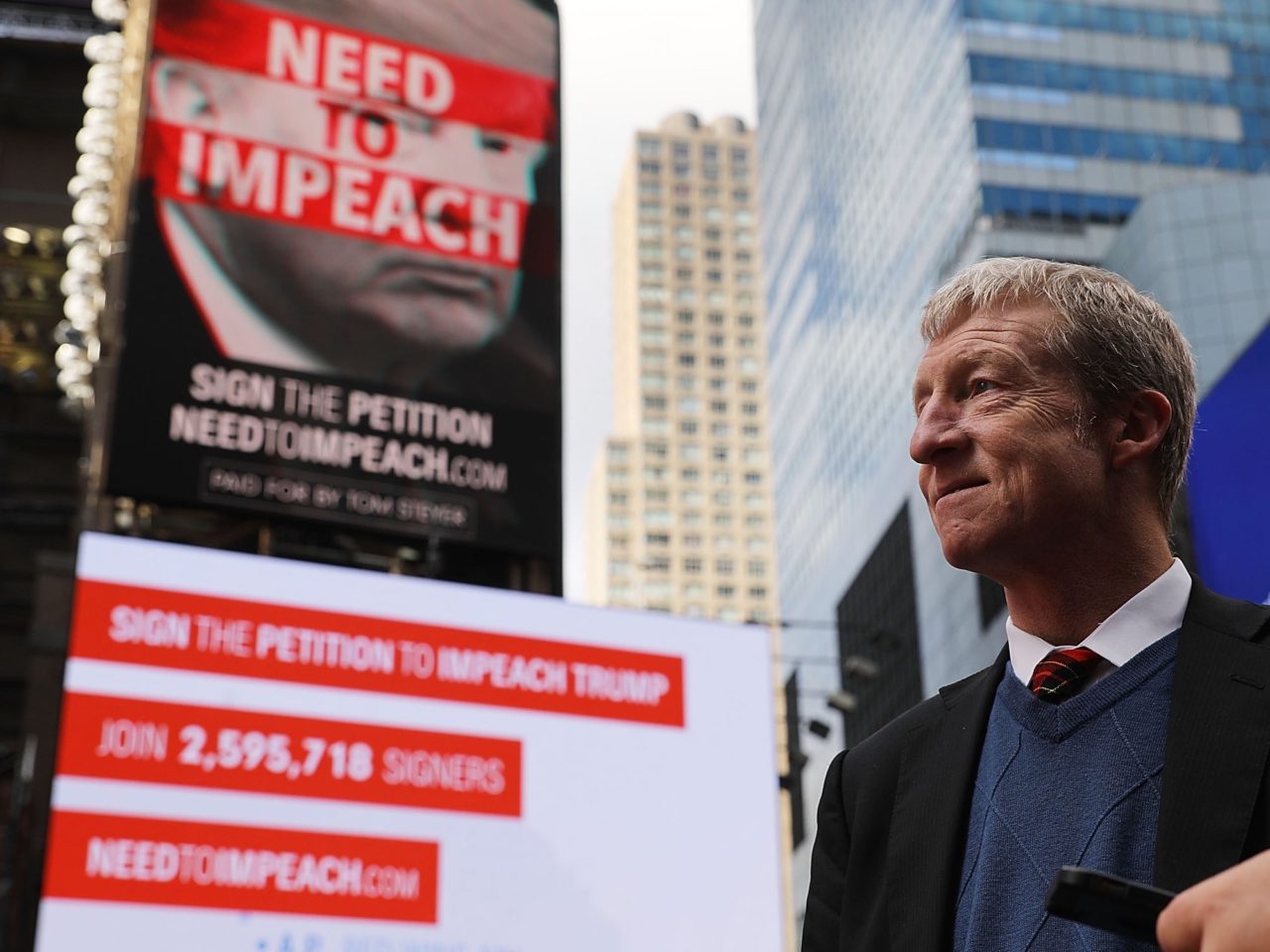 Left-wing billionaire mega-donor and likely 2020 presidential candidate Tom Steyer has launched a new ad aimed at convincing incoming Democratic members of Congress to vote to impeach President Donald Trump next year.
Steyer spent over $100 million in the 2018 election on pushing for Trump's impeachment, backing Democratic candidates who committed to that goal. Since the election, his organization, Need to Impeach, also launched a Thanksgiving guide to help activists convince their friends and families that Trump needs to be impeached.
In the video, Steyer appears in front of the U.S. Capitol to make the case for impeaching a "lawless" Trump:
Americans rose up this November and rejected Donald Trump. More unhinged by that than ever, this president has declared war on the rule of law. But you gave Democrats the power to hoodlum in check. A majority vote in the House can impeach him and expose his lawless behavior for all to see. They just need the will. Please join over 6 million Americans and together we can give Congress the courage to act. Then, we can begin building a more just and prosperous future.
Before pushing for Trump's impeachment, Steyer's pet cause was climate change. He was the Democrats' single biggest donor in 2014, convincing the then-majority party to hold an all-night talk session on the floor of the Senate in which Democrats demanded action on climate change (but did nothing of actual legislative significance).
On Sunday's edition of NBC News' Meet the Press, Steyer urged Trump's impeachment. "I think there's no question that this president has both met the grounds for impeachment and that it's urgent to get him out of office and everything," he said, adding that he suspected Trump was taking money from Saudi Arabia.
Joel B. Pollak is Senior Editor-at-Large at Breitbart News. He is a winner of the 2018 Robert Novak Journalism Alumni Fellowship. He is also the co-author of How Trump Won: The Inside Story of a Revolution, which is available from Regnery. Follow him on Twitter at @joelpollak.
http://feedproxy.google.com/~r/breitbart/~3/sO9-ecFq3Uc/