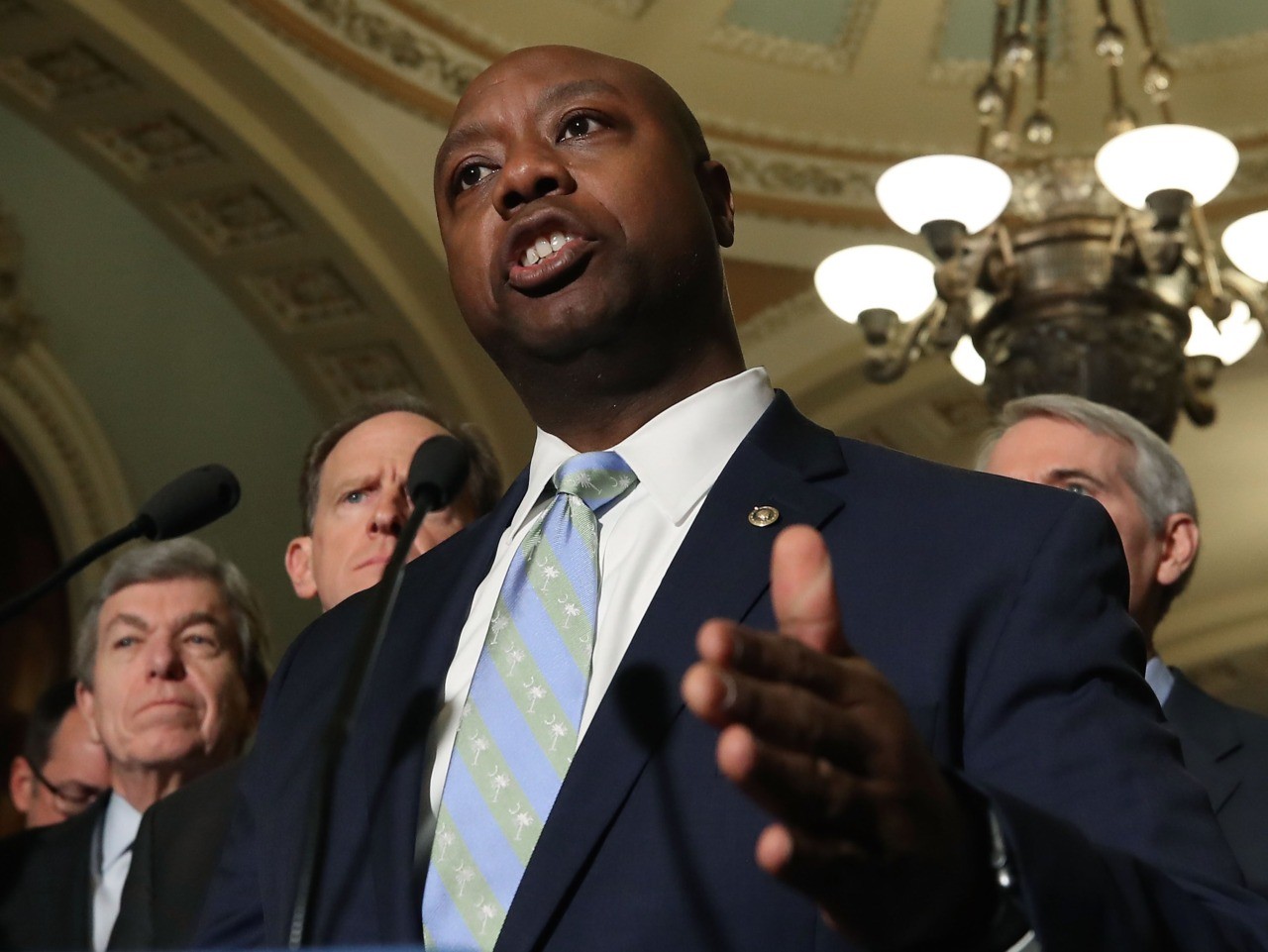 Sen. Tim Scott (R-SC) announced Thursday that he would oppose the judicial nomination of Thomas Farr in the Eastern District of North Carolina, reversing his position from the day before.
Scott's apparent flip-flop means that Farr will not be confirmed by the current Senate, because he is also opposed by retiring Sen. Jeff Flake (R-AZ), who is blocking all the president's judicial nominees until the Senate considers a bill to protect Special Counsel Robert Mueller. (Theoretically, the president could re-nominate Farr next year, with a 53-47 majority in the Senate.)
In a statement, Scott said that he had been moved to oppose Farr based on a Department of Justice memorandum from 1991 about alleged voter suppression by the campaign of then-Sen. Jesse Helms (R-NC). Farr, who worked on Helms's Senate campaign, said he did not know about Helms's efforts, though the memo suggested that he may have talked to the campaign about its plans — albeit to discourage them, according to a Fox News report Thursday.
On Wednesday, Scott joined every Republican except Flake in a procedural vote for Farr's nomination to proceed. On Wednesday evening, Sen. Scott told Fox News' Shannon Bream that he had spoken directly with the author of the 1991 memorandum, who had assuaged his concerns:
If [Farr] was the architect of that nasty, racist campaign, I would have been a 'no' without any question. What I found so far from appointees of the Obama administration to my conversations with the author of the memo is that he was, in fact, not the architect of the campaign and that the character witnesses from the Obama administration coming forward on behalf of Tom Farr have been pretty strong.
Scott said that he would continue doing his research into the next day — and the results of that "research" were evidently enough to change his mind, though his statement Thursday did not mention any specific new facts.
Sen. Scott earner praise from Sen. Chuck Schumer, who said the Republican had done "a courageous thing." But he will receive criticism from conservatives, who note that this is the second time in recent months that Scott has sunk an otherwise highly qualified judicial nominee over supposed racial controversies largely contrived by Democrats.
In July, Scott helped bring down the nomination of Ryan Bounds for the Ninth Circuit Court of Appeals, after Democrats raised concerns about Bounds's writings while a student at Stanford criticizing racial identity politics. As in the Farr nomination, Scott voted for Bounds in the procedural vote, before flip-flopping in the final vote.
Joel B. Pollak is Senior Editor-at-Large at Breitbart News. He is a winner of the 2018 Robert Novak Journalism Alumni Fellowship. He is also the co-author of How Trump Won: The Inside Story of a Revolution, which is available from Regnery. Follow him on Twitter at @joelpollak.
http://feedproxy.google.com/~r/breitbart/~3/2o7cAmvrZ6c/