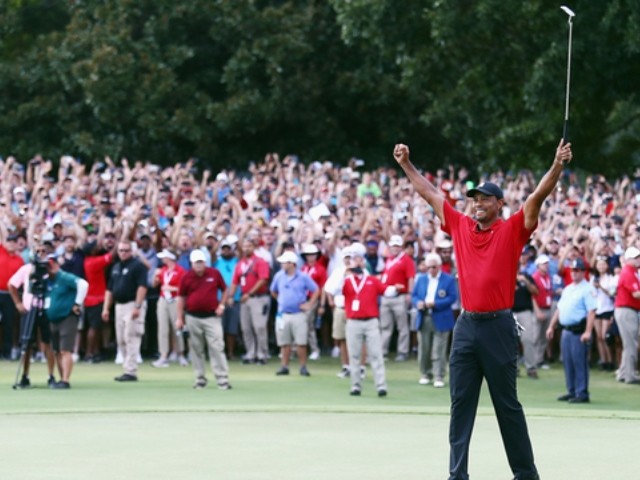 It's not a secret that a big day for Tiger Woods, normally leads to a big day for the broadcast networks. However, given that it's been five years since Woods' last PGA win, it would be fair for one to assume that a victory would lead to even greater ratings.
And those assumptions would be absolutely correct.
NBC saw a 206% ratings jump from 2017 after Tiger Woods won the PGA Tour Championship in dramatic, come-from-behind fashion.
According to Awful Announcing:
Golf Channel announced that final round coverage on NBC drew a 5.21 overnight rating, up 206% from 2017, making it the highest non-major PGA Tour broadcast of 2018. Streaming was also way up, as you would expect: the final round of the Tour Championship resulted in 18.4 million minutes streamed, up 561% from last year. That makes it the most-streamed Sunday round on NBC's family of networks since they started streaming in 2013.

This seemed to coincide with NBC's announcement that their third round overnight rating was up 142 percent(3.14) over last year and their highest rated third round in 15 years.
That ratings performance is even more impressive when you factor in that that the Tour Championship went up against a full-slate of NFL action. Woods' victory still does not count as a major. However, for the first time in a long time, there's real hope that a major win could still be in the cards for golf's most popular player.
Follow Dylan Gwinn on Twitter @themightygwinn
http://feedproxy.google.com/~r/breitbart/~3/lxRAqE9MgY8/