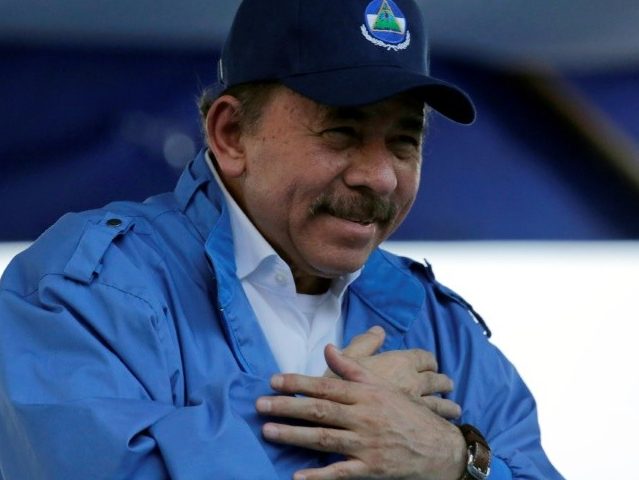 Venezuelan dictator Nicolás Maduro and Cuba's ceremonial "president" Miguel Díaz-Canel took the time Sunday to celebrate the birthday of fellow leftist autocrat Daniel Ortega, who turned 73 years old and has ruled Nicaragua for about half of the years since the 1979 Sandinista revolution.
The Trump administration recently announced a recalibration of its Latin America strategy to specifically target the three socialist/communist regimes in Venezuela, Cuba, and Nicaragua, citing their widespread human rights violations and cooperation in enabling criminal activity in the region.
American National Security Advisor John Bolton referred to Maduro, Díaz-Canel, and Ortega as the "three stooges of socialism" in a speech announcing the new policies in Miami this month.
"The people of Bolívar and Chávez unite with our Sandinista brothers to celebrate the birthday of our friend and president, Comandante Daniel Ortega," Maduro wrote on Twitter. "We appreciate your contribution in the construction of a multicentered and pluri-polar world. Long live a free Nicaragua!"
Díaz-Canel replied to Maduro on Twitter, adding, "I add myself to President Maduro on this congratulation on the birthday of the brother Comandante Daniel Ortega. Congratulations."
Me sumo hermano Presidente @Maduro a esa felicitación por el cumpleaños del hermano comandante @DanielOrtega. Felicitaciones #SomosCuba

— Miguel Díaz-Canel Bermúdez (@DiazCanelB) November 11, 2018
Comandante is a Spanish term popularized by late Cuban dictator Fidel Castro for the supreme leader in a communist society.
Maduro expressed his good wishes from Caracas, where he is currently presiding over a government that has devastated the economy to such an extent that it has triggered the largest migrant crisis in the modern history of South America. To suppress protests by pro-democracy voices who note that Maduro has banned free and fair elections and illegally dissolved the legislature, the Venezuelan socialist regime has taken hundreds of political prisoners and killed and tortured many not imprisoned for extended periods of time. According to Lorent Saleh, a student activist who spent four years in prison for organizing peacefully, guards in Venezuelan prisoners actively tortured prisoners using sensory deprivation, sleep deprivation, beatings, extracting blood to weaken a prisoner, and crucifixion.
In neighboring Cuba, pro-democracy voices more often face public beatings and humiliation, as dictator Raúl Castro attempts to keep political prisoner statistics low to discredit human rights advocates. Cuba arrests hundreds of political activists every month, typically beating them and leaving them hours from home with no way of getting back. Some activists, like Ladies in White organization leader Berta Soler, are arrested nearly every week.
The Cuban regime actively supports and advises Venezuela. Some estimates place the number of Cuban state security agents in Venezuela running government operations at close to 100,000 people. As a result, Cuba's economy has suffered, beaten down by the related collapse of Venezuela's. Díaz-Canel, who serves as Castro's ambassador to the world given the latter's advanced age, is currently in Laos after visiting Russia, China, and North Korea seeking financial aid.
Ortega ran Nicaragua from 1979-1990 and returned as president in 2007, imposing the same socialist/communist ideology that his Sandinista revolution brought to power. Nicaragua's government became significantly more violence in April of this year in response to a series of peaceful protests that began with demands to preserve the current social security system but resulted in widespread protests for Ortega to step down. Ortega has ordered police to violently attack and arrest peaceful dissidents. Recent estimates found that more than 300 people died in police attacks, over 2,000 were injured, and thousands more arrested. Those who survived prison report being raped, beaten, and tortured in attempts to make them claim to be affiliated with the United States and the CIA.
Ortega declared protests illegal in late September.
Pro-Ortega Nicaraguan media claimed that towns throughout the country organized celebrations for Ortega's birthday featuring children singing performances in Ortega's honor and that "families came together to sing 'Happy Birthday' in their homes."
This month, the Trump administration launched a multi-pronged approach to diminish the influence of all three repressive regimes through a speech Bolton delivered in Florida.
"I am here to deliver a clear message from the president … to those three regimes," Bolton told an audience largely composed of refugees from those countries. "We will not reward torturers, murderers, and abusers."
"This Troika of Tyranny, this triangle of terror stretching from Havana to Caracas to Managua, is the cause of immense human suffering, the impetus of enormous regional instability, and the genesis of a sordid cradle of communism in the Western Hemisphere," he added, referring to the two leaders and subordinate Díaz-Canel as "the Three Stooges of Socialism."
"They are pathetic clowns that resemble Larry, Curly, and Moe, three absurd comedians," he said.
Follow Frances Martel on Facebook and Twitter.
http://feedproxy.google.com/~r/breitbart/~3/gSYznOZ_5gI/