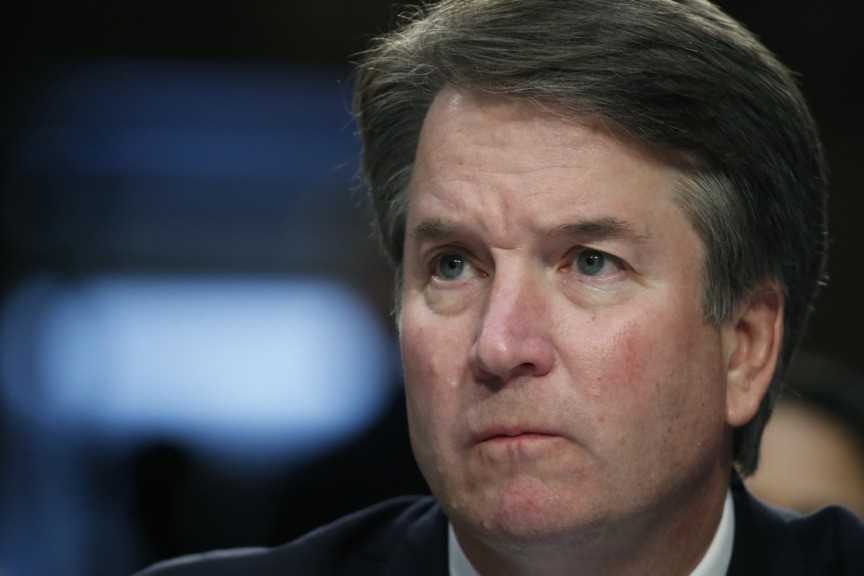 A third high school student Brett Kavanaugh accuser Christine Blasey Ford claimed attended a party more than 35 years ago where the future Judge Kavanaugh attacked her denied any memory of the alleged incident in a letter to the Senate Judiciary Committee, CNN reported Tuesday.
CNN obtained a letter from Patrick J. Smyth, a Georgetown Prep alum who graduated in Kavanaugh's class, to Judiciary Committee Chairman Chuck Grassley (R-IA) and ranking Democrat Dianne Feinstein (D-CA). The letter was penned after Ford apparently identified Smyth as "PJ" – another teenager who was one of around five people at a drunken gathering in a Montgomery County, Maryland, home in or around 1982.
"I understand that I have been identified by Dr. Christine Blasey Ford as the person she remembers as 'PJ' who supposedly was present at the party she described in her statements to the Washington Post," the letter, penned by Smyth's attorney, Eric Bruce, reads. "I am issuing this statement today to make it clear to all involved that I have no knowledge of the party in question; nor do I have any knowledge of the allegations of improper conduct she has leveled against Brett Kavanaugh."
Smyth remains Kavanaugh's friend and had already written to the Senate Judiciary Committee in support of his nomination to the Supreme Court, calling him "singularly qualified to be an Associate Justice on the U.S. Supreme Court" in a letter co-authored by Georgetown Prep classmates of Kavanaugh.
"Personally speaking, I have known Brett Kavanaugh since high school and I know him to be a person of great integrity, a great friend, and I have never witnessed any improper conduct by Brett Kavanaugh towards women," Smyth's new letter continues.
"To safeguard my own privacy and anonymity, I respectfully request that the Committee accept this statement in response to any inquiry the Committee may have," the letter explains, although, with the letter's leaking to CNN, that anonymity is apparently at an end.
The denial is the third of the among five people Ford has claimed were present when Kavanaugh and classmate Mark Judge, both allegedly drunk, forced her into a room where Kavanaugh forced himself on top of Ford and groped her until she managed to escape without incident. Kavanaugh and Judge have both categorically denied any recollection of the incident or the high school party itself.
The exact number of attendees – like the date, location, and circumstances of the supposed party – has never been definitively fixed in any of Ford's accounts. Some accounts include the attendance of a still not publicly identified female.
Ford, by her own account, told no one of the incident for three decades, revealing it only at a marriage counseling session in 2012. In July, she sent Feinstein a letter realleging the attack, but the ranking Democrat made no mention of it throughout Kavanaugh's confirmation hearings, going public only after news reports of the letter began to emerge over the weekend.
Republicans set a Monday date for a hearing under oath on the matter, which Kavanaugh has agreed to attend. Ford, despite her attorney, Debra Katz's, repeated assertions she is willing to testify, has not yet accepted her invitation to do so. After reports of her failure to accept the invitation emerged Tuesday, Katz returned to the airwaves to claim Ford will not appear until the FBI investigates her claims.
The FBI has repeatedly denied it is conducting an investigation, noting there is no potential federal crime contained in Ford's allegations. A Monday Department of Justice statement made clear this is not a type of investigation the FBI performs as part of its background investigations. "The FBI does not make any judgment about the credibility or significance of any allegation. The purpose of a background investigation is to determine whether the nominee could pose a risk to the national security of the United States," the statement explained.
"On the night of September 12, the FBI received a letter dated from July 2018 alleging that the nominee engaged in an incident of misconduct in the 1980s," the statement continues. "Consistent with the memorandum of understanding, the FBI forwarded this letter to the White House Counsel's Office. The allegation does not involve any potential federal crime. The FBI's role in such matters is to provide information for the use of the decision makers."
While Chairman Grassley has made clear Monday's hearing may be cancelled if Ford refuses to testify, Democrats echoed Katz's demands for the FBI to get involved. One member of the Judiciary Committee, Sen. Mazie Hirono, did so while further instructing "the men in this country" to "just shut up and step up."
http://feedproxy.google.com/~r/breitbart/~3/WbfblY1oTbc/