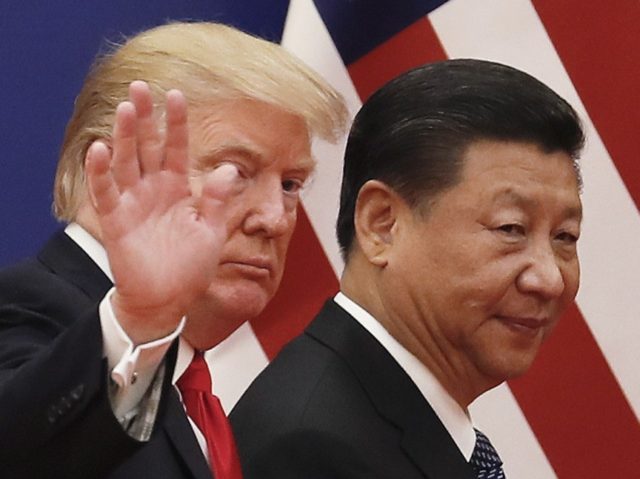 Efforts to get the Trump administration to soften its stance on China have intensified in recent weeks.
Both outside informal advisers to the president as well as high-ranking government officials have participated in a coordinated push to get President Donald Trump to back off his threat to raise tariffs on Chinese goods from ten percent to 25 percent in the new year, according to a person briefed on the matter.
President Trump spoke with Chinese dictator Xi Jinping by telephone on November 1. The two leaders agreed to discuss trade issues when they meet at the G-20 meeting in Argentina at the end of November.
No one inside or outside the administration believes the many areas of dispute between the U.S. and China can be resolved by then. But some inside the administration are hoping the talks will lead to a "truce" between the two nations, with Trump agreeing not to escalate the tariffs while negotiations continue. Critics of this approach say it plays into China's strategy of talking endlessly without ever making substantive concessions.
The Financial Times reported that the White House National Economic Council, which is led by Larry Kudlow, was exploring options that could lead to a trade truce. Kudlow replaced former Goldman Sachs executive Gary Cohn as head of the council, which was long a stronghold of internal opposition to the president's trade agenda. Cohn–who Trump nicknamed "Globalist Gary"–left shortly after the tariffs on steel and aluminum were announced.
"It is almost as if Xi Jinping wants to roll in there on his own at the G20 and see if they can't capture Trump in the meeting," one China policy expert told the Financial Times.
Less than one week ago, White House trade chief Peter Navarro warned that Wall Street billionaires acting as unregistered foreign agents were pushing the president to cut a deal with China on Wall Street's terms. The Financial Times story, as well as another in the Washington Post, appear to vindicate Navarro's claim.
"The recent market turmoil, House election result and angst in farm states has the Trump team rattled on trade," one multinational executive told the Washington Post. "The president still wants to pull the trigger on crazy stuff like an autos tariff, but he's lost some of his swagger, and a lot of people around him are saying he needs to back away from extreme action."
Kudlow this week publicly rebuked Navarro, saying he was "way off base" with his remarks. Kudlow also said that talks with China had resumed after a long period in which the two nations had been largely out of touch on trade issues.
"We are talking to them again," Kudlow said. "We're having communications at all levels of the U.S. and Chinese government."
The possibility of a truce has riled some administration trade hawks, but no one was willing to speak on the record for fear of reprisals.
"The second round of China tariffs just kicked in a month ago and these guys want to scream 'Uncle.' There is still a trade surrender lobby inside the administration," one Trump administration official said.
The Financial Times, citing a person familiar with the situation, reported that U.S. Trade Representative Robert Lighthizer had told some industry executives the next round of China tariffs was already on hold. Lighthizer's office has strongly denied that there has been any change of policy.
"Ambassador Lighthizer has made no representations to industry executives that future Section 301 tariffs are on hold. The plan for the tariffs as covered in the Federal Register Notice dated September 21, 2018, has not changed at all. Any reports to the contrary are incorrect," a spokesman for Lighthizer said.
Lighthizer has been known as a trade hawk and has been very critical of China's predatory practices. Lighthizer's spokesman pointed to his earlier comment when contacted by Brietbart News.
http://feedproxy.google.com/~r/breitbart/~3/85wpTEsqfD4/