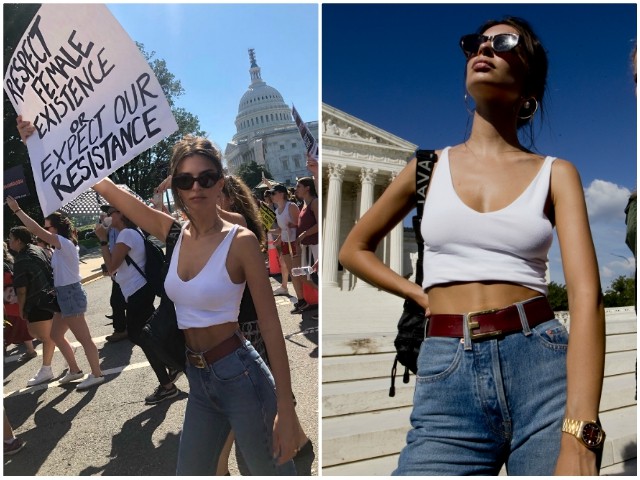 Wealth redistribution enthusiast, actress, and left-wing activist Emily Ratajkowski has expensive taste and when she partnered with eBay to curate a list of holiday gifts, she chose some of the most expensive items on the site.
Ratajkowski's eBay holiday picks include a $145,000 crocodile Birkin bag, a nearly $35,000 Rolex watch, a $4,000 lizardskin clutch by Celine, an $18,000 Rolex men's watch, and $2,500 Loewe small shoulder-strap bag.
"I love shopping on eBay because you are able to find amazing special pieces that you can't find anywhere else," Emily Ratajkowski said in a news release about her partnering with eBay.
"I was excited when eBay approached me to share my gift picks this holiday season because eBay is the ultimate destination for gifting, whoever might be on your list," Ratajkowski said.
Ratajkowski is known for her left-wing politics and flaunting of her body.
In 2015 during an interview with Vogue, when asked what her presidential slogan would be, Ratajkowski said: "Let's redistribute wealth in this country."
She infamously was told by social media users to "put on a bra" while she was protesting most recently against the confirmation of Justice Brett Kavanaugh.
And in 2017, Ratajkowski complained that she could not find work in Hollywood because her boobs were too large.
"There's this thing that happens to me: 'Oh, she's too sexy,'" Ratajkowski said. "It's like an anti-woman thing, that people don't want to work with me because my boobs are too big."
"What's wrong with boobs," Ratajkowski said. "They're a beautiful feminine thing that needs to be celebrated. Like, who cares? They are great big, they are great small. Why should that be an issue?"
When she's not posting nude photos to social media or curating expensive holiday shopping lists, Emily Ratajkowski is stripping down for steamy sex scenes, like this one for her new movie Welcome Home.
John Binder is a reporter for Breitbart News. Follow him on Twitter at @JxhnBinder. 
http://feedproxy.google.com/~r/breitbart/~3/UP5whx5Rczc/