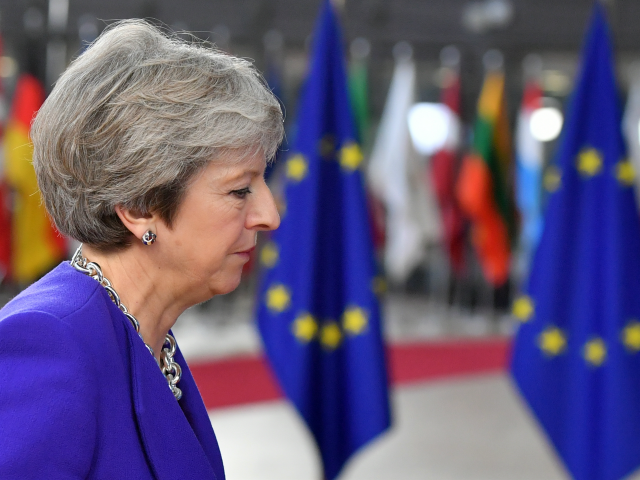 Theresa May has proposed delaying leaving the European Union's (EU) Customs Union for a further year after failing to agree on a solution to the Irish "backstop" issue.
Forced to remain inside the union, the UK will have to pay tens of billions more into the EU budget and cannot strike trade deals — seen as a major economic advantage of Brexit — and will be forced to follow many EU rules and laws, with no say in setting them.
Almost a year ago, the Prime Minister bowed to EU demands to either keep the entire UK or province of Northern Ireland in the Customs Union if the Irish border cannot be kept open. The UK has already agreed to stay locked in a customs union for a 22-month "transition period" as a solution is found.
The EU has always claimed that technology cannot be used to keep the border open and Mrs May's Chequers plan, with the UK tied to all customs rules on goods, is likely to be rejected by the bloc.
Mrs May told reporters Thursday morning: "A further idea that has emerged – and it is an idea at this stage – is to create an option to extend the implementation period for a matter of months – and it would only be for a matter of months.
"But the point is that this is not expected to be used, because we are working to ensure that we have that future relationship in place by the end of December 2020."
Ahead of Wednesday's crunch meeting, President of the European Council Donald Tusk said there was "no optimism" for a deal on the Irish border, with Mrs May sticking to her Chequers plan and the EU demanding more concessions.
Pro-Brexit Tories have been threatening a rebellion for some time unless Mrs May abandons her unpopular plan, and this latest concession prompted a fresh backlash.
"The problem isn't Brexit. The problem is the prime minister," says Nigel Farage from the Brussels summit#newsnight |  @Nigel_Farage pic.twitter.com/0bwhOfNXZS

— BBC Newsnight (@BBCNewsnight) October 17, 2018
Tory MP Nadine Dorries said: "If Theresa May is asking for a longer transition period, she is stalling. It's time to stand aside and let someone who can negotiate get on with it and deliver.
"I fully support [former Brexit secretary David Davis] as an interim leader. I've done my bit. It's time for my colleagues to do theirs."
Former UKIP leader and MEP Nigel Farage stressed that the referendum result was clear, and claimed the extra delay was part of an underhanded tactic to keep the UK permanently locked the EU.
He said: "The problem is, [is] that we have a Prime Minister who was a 'Remainer' who has once again come to a European Union summit and humiliatingly agreed that she is prepared to sign up for a further year of 'transition' and another £20 billion of UK taxpayers' money."
"The problem isn't Brexit. The problem is the Prime Minister," he said.
May, he claimed, is "doing her utmost – by agreeing potentially to extend 'transition' – to make sure that this now rolls into the next general election so that we never leave the European Union properly."
"This is a betrayal of Brexit and it about time the Tory Party stood up and got rid of her [Theresa May]," he added.
Delingpole: Never Mind 'Green GB Week', Theresa. Where Is Our Brexit? https://t.co/l3dwaZlxAA

— Breitbart London (@BreitbartLondon) October 16, 2018
http://feedproxy.google.com/~r/breitbart/~3/55-NVxq75v0/