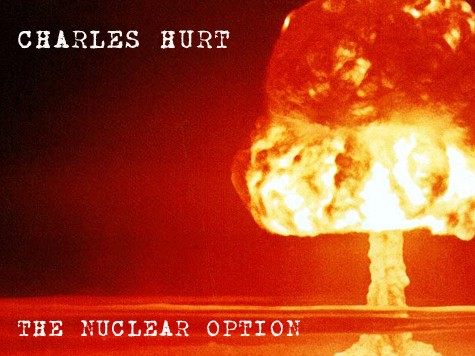 In this shameful season of partisan lies, it is nearly impossible to run down every deceit before it lands on the lips of some lusty mob, where it becomes a rallying cry to chase decency, dissent and free speech from the public square.
Look at this weekend's mobs of protesters — many of them paid by hugely wealthy and powerful special interests — that thronged the streets around the Capitol and Supreme Court to shout down any difference of opinion. Jackbooted hippies jeered, harassed and intimidated anyone who hesitated to swear fealty to their warped worldview and twisted lies.
No single lie has been more freely uttered — or is more profoundly dishonest — than the claim that SenateDemocrats had every right to kill the Kavanaugh nomination as payback for Republicans' refusal to take up President Obama's nomination of Merrick Garland in the final months of his presidency.
Let's set aside for the moment this insidious notion that it is somehow acceptable to publicly endorse revenge politics.
The fact that so many Democrats openly embrace this kind of "governing by revenge" reveals just how cynical and disingenuous the entire party has become. It also reveals just how unlikely they will ever be any part of a genuine effort to stop the insanity gripping Congress these days.
The biggest lie about Merrick Garland — one that is constantly peddled by Democrats and unquestioningly accepted by the press — is that Republicans' treatment of him and his nomination is somehow on par with how Democrats treated Justice Kavanaugh and his nomination.
Nothing could be further from the truth.
If you go back and consult the Constitution, you will remember that the president is charged with nominating Supreme Court justices. The Senate is charged with providing "advice and consent," meaning confirmation or rejection.
Merrick Garland was nominated to the Supreme Court at a time when American voters had expressly put Republicans in charge of the Senate. If voters wanted Mr. Obama to have a free hand in selecting a Supreme Court nominee in his final two years in office, they would have elected Democrats to control the Senate.
They did not. As such, a majority of the Senate declined to confirm Merrick Garland. That is democracy at work.
Democrats also like to suggest that the filibusters they waged against President Bush's lower court nominees — and virtually every Republican Supreme Court nominee since then — are no different from what Republicans did to Merrick Garland.
Again, a complete lie.
Merrick Garland suffered the lawful will of a Republican-led Senate. Filibusters against judicial nominees, on the other hand, are carried out by rogue insurgencies inside a Senate minority, preying on the long-outdated mannerly customs of a collegial U.S. Senate.
By definition, filibusters are not expressing the will of the elected Senate. Rather, filibusters thwart the will of the Senate by a guerrilla minority.
In other words, Democrats hijacked the Senate and handed it over to "tyranny of the minority."
No one spreads these lies more shamelessly than Senate Minority Leader Chuck Schumer, who has done more than anyone else to turn the courts into an ideological battlefield.
In a rare departure from his usual dishonesty, Mr. Schumer offered a sobering message after Justice Kavanaugh was confirmed.
This fight, he said, can be ended at only one place: the ballot box.
Indeed. And Republicans had better not forget that.
• Charles Hurt can be reached at churt@washingtontimes.com; follow him on Twitter via @charleshurt.
http://feedproxy.google.com/~r/breitbart/~3/rC_FkD4peT8/