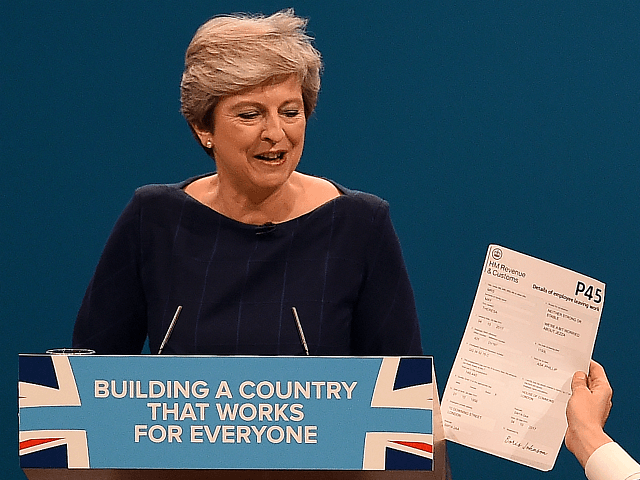 Theresa May's time as Prime Minister may be coming to an end, with MPs telling her to "bring her own noose" to a crunch meeting on Wednesday as former Brexit Secretary David Davis sets out his leadership stall.
Theresa May was already under pressure over her many concessions to the European Union and attempts to agree a so-called 'backstop' with the bloc, which would keep the United Kingdom inside the EU Customs Union in order to avoid customs checks between the British province of Northern Ireland and the EU's Republic of Ireland — effectively stopping the country from making new global trade deals after Brexit.
Her latest proposal to extend a proposed 'transition period' with the EU, during which Britain will remain subject to Brussels but lose all of its representation in EU institutions, appears to have been the final straw, costing her support among both the Brexiteer and Remainer wings of the Tory Party.
Members of the party's powerful 1922 Committee — comprised of all the party's parliamentary backbenchers — are now suggesting they will trigger a vote of no confidence in the Prime Minister if she fails to persuade them at a crunch meeting on Wednesday.
"She should bring her own noose to the '22. Short of an uncharacteristically powerful, persuasive, and coherent performance, then I think her time will be up," said one senior Brexiteer quoted by the Mail on Sunday.
'It's Just Chaos' – Pro-Brexit and Pro-EU Tories All Turning on Theresa May over Negotiations https://t.co/UyPuhslHwB

— Breitbart London (@BreitbartLondon) October 19, 2018
Meanwhile, former Brexit Secretary David Davis, who resigned from Theresa May's Cabinet after she unveiled her Chequers plan for the EU negotiations — which he believes would not restore Britain's sovereignty in a meaningful way — has published a column widely interpreted as a preliminary leadership bid, as it sets out how the direction he would take the negotiations with Brussels if it was up to him.
"The EU is not entitled to split up the UK," Davis wrote on the subject of the backstop — which Brussels wants to apply to Northern Ireland alone, effectively carving off the country from the wider British economy and annexing it to the EU for customs purposes.
"And the EU is not entitled to direct how we regulate our economy and govern ourselves after we leave," he continued. "We should not allow ourselves to be bullied by the EU. Now is the time to stand up for the national interest and plot a better course."
The "better course" Davis argues for would be no-holds-barred, with Britain dramatically stepping up preparations for a 'No Deal' Brexit and meeting the EU threat for threat on claims that, for example, flights between Britain and the EU could be grounded if a treaty favouring Brussels is not signed.
"This is extremely improbable as it would undermine the Spanish and other European tourism markets as well as Mediterranean property markets," he observed — before adding that a 'No Fly Zone' over Britain would also have a dramatic impact on flights from the EU.
"European flights would still need our airspace in order to fly to the USA," he warned.
Leo Varadkar implying Britain won't be able to fly over Irish airspace after Brexit is probably the dumbest comment made this year. Take a look at just how many flight paths from Dublin cross over the UK! ⬇️‍♂️

🙋‍♀️ Support us at https://t.co/iICfFb8qqg pic.twitter.com/8vk3k1zvJQ

— Leave.EU (@LeaveEUOfficial) July 20, 2018
Allies of Mr Davis have suggested Boris Johnson, another leading Brexiteer tipped as a possible successor to Mrs May, would become Davis's deputy, and that Davis would step aside for him once Brexit was delivered.
Allies of the former Foreign and Commonwealth Secretary do not seem particularly enthused about allowing Davis to step in as an interim 'caretaker', however, and co-operation between the two Brexiteers has been limited since their Chequers resignations.
Follow Jack Montgomery on Twitter:

 @JackBMontgomery
Follow Breitbart London on Facebook:

 Breitbart London
http://feedproxy.google.com/~r/breitbart/~3/5DFkZSt3BZs/