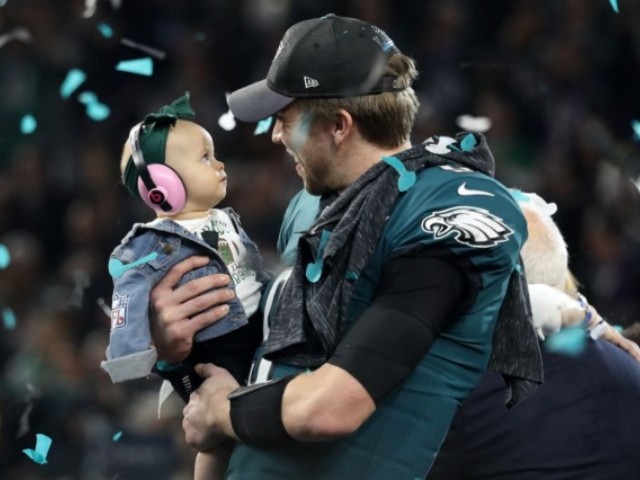 The Philadelphia Eagles won the Super Bowl about nine months ago. And while Philly is known as the "City of Brotherly Love," local Philadelphia hospitals are starting to see the results of love that is most definitely not brotherly.
According to ABC 6 (WPVI):
A number of local hospitals are reporting something of a baby boom, and it's not overly difficult to figure out why. About nine months ago, the Philadelphia Eagles won the big game, and people flooded the streets to celebrate. But it seems many couples continued the celebration at home. Now, many are welcoming what nurses call the 'Super Bowl babies!'
ABC 6 also reported that many of those fans who took the celebration behind closed doors, also worked the names of their favorite Eagles players into the names of their Super Bowl babies.
For example, Layla Grace Foles Castelli, probably would not have had "Foles" included in her name if it wasn't for the Super Bowl heroics of Eagles quarterback Nick Foles. Then again, according to her dad, the newborn baby girl likely wouldn't be here at all if it hadn't been for the Eagles win.
"If they didn't win, we probably wouldn't be here with a baby," Mario Castelli told ABC 6.
According to CBS 3 via Yahoo:
Sunday will mark exactly nine months since the Super Bowl win, and Lankenau Hospital in Philadelphia is inviting parents to the maternity ward with a "Welcome Super Bowl babies" banner.

'People like celebrating during happy times, so this is one way to celebrate,' Dr. Eva Martin told CBS 3 in Philadelphia.
Truth.
Follow Dylan Gwinn on Twitter @themightygwinn
http://feedproxy.google.com/~r/breitbart/~3/KxvdlYDB6uk/