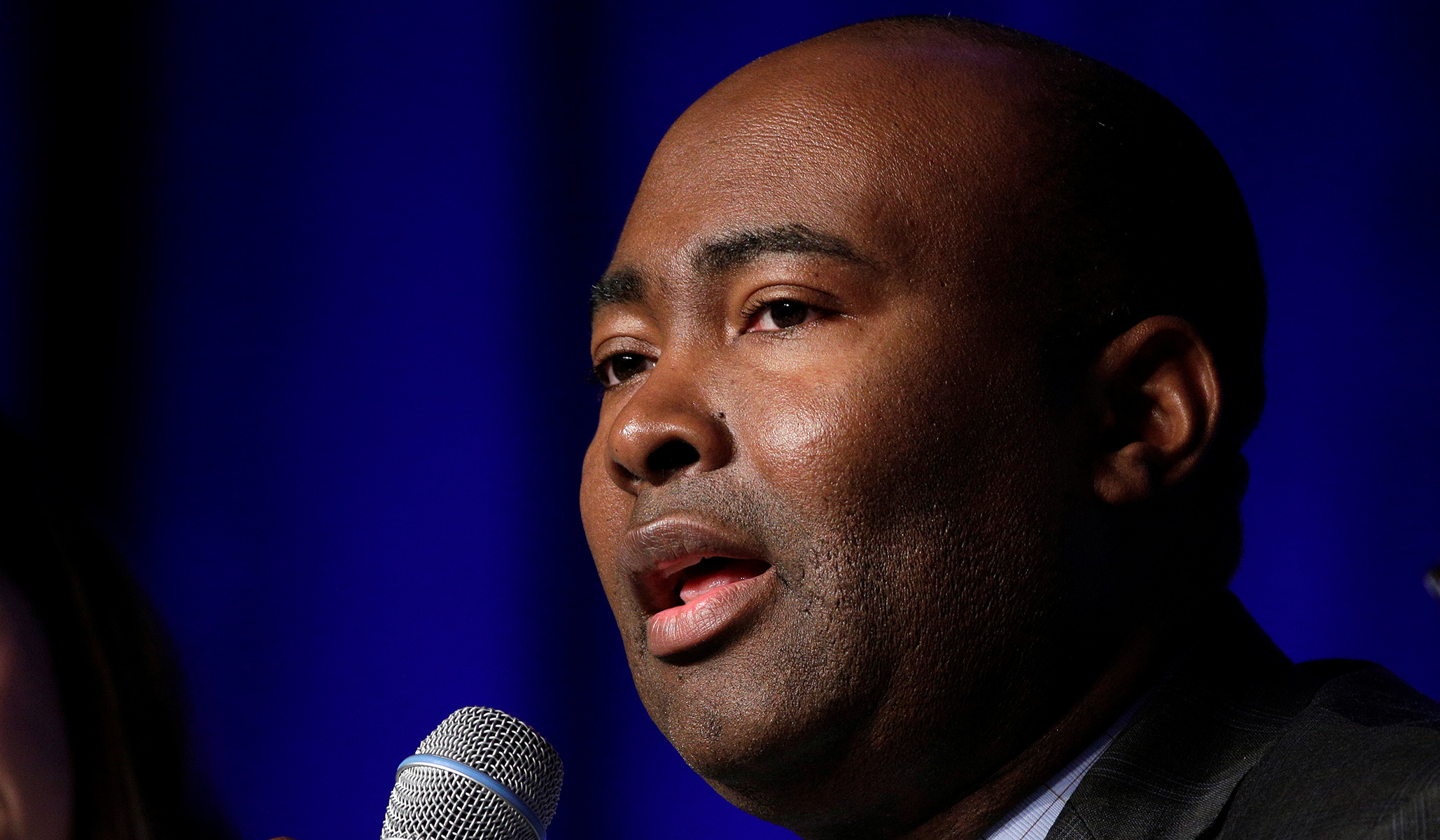 Natasha Korecki, Jonathan Allen and Lauren Egan of NBC News have a long story looking at tensions between the Biden White House and Democratic National Committee Chair Jaime Harrison. Things have gotten so bad that Harrison is reported to be contemplating quitting the job ahead of the midterms:
Harrison is frustrated, isolated and trapped in a job he long thought he wanted, according to party insiders, a dynamic driven by escalating tensions with the White House over his role. Key decisions for the committee are made by White House Deputy Chief of Staff Jen O'Malley Dillon, who speaks frequently with other DNC officials but only about three times a month by Zoom with Harrison. The limits of his influence are a source of agitation for Harrison, according to several people who have spoken to him. . . . Harrison has been frustrated enough to consider an escape route to depart before the midterms . . . according to two people with knowledge of the situation. But Harrison . . . can't make any move that would be perceived as harmful to the party or the president . . .

NBC News spoke with more than two dozen current and former DNC officials, White House officials, fundraisers, donors and Democrats in touch with the White House, who nearly universally described a strained relationship between the White House and Harrison.
There are four possible takeaways here, depending upon how you look at this story. More than one can be true.
Take No. 1: Stories about the party chair wanting to quit before the midterms do not come out when your party is expecting a good midterm. If things were going well, Democratic sources would not be leaking this stuff to NBC. Standard caveats apply to adjective-laden stories based on anonymous sources, but once again, we see that Biden and his team produce a lot more of these leak-driven stories — even in sympathetic media outlets — than did the Obama team. That alone is not a great look.
Take No. 2: Joe Biden couldn't organize a game of Candyland. When your party controls the White House, the party chair is supposed to be subordinate to the White House, but also a seamless part of the organization, who can be trusted to carry out the president's political strategy without hand-holding. Instead, Biden has yet again created organizational dysfunction beneath him by picking a man for the job whom he won't entrust with real responsibility, just as he persistently dumps unpleasant, unwinnable tasks on Kamala Harris:
"There's blame to be shared," said a person familiar with the dynamics who added that the White House has not been able to devise an effective political strategy or a clear message for Harrison to carry to help reverse Biden's slide. "Has he demonstrated that he's going to move heaven and earth to raise money and defend the administration? No. But it's pretty impossible to defend what's happening and not happening." The person described the White House's political and communications efforts amid a series of crises and flagging poll numbers as "pretty tricky" and, using a vulgarity, in bad shape . . .

Several current and former state party chairs as well as numerous party operatives . . . said the White House would be wise to elevate Harrison's political know-how instead of icing him out. They also expressed frustration with White House's political lieutenants, describing them as absent, unresponsive and lacking the human touch needed to build support in battleground states and turn around Biden's lagging numbers.
Take No. 3: Jaime Harrison was always overrated. Much touted as the great Democratic hope to run Lindsey Graham out of the Senate, Harrison raised a staggering $130 million in his 2020 bid for the Senate, breaking all manner of records for a Senate campaign. He lost by 10 points. Having spent all that money, he ran all of one point better than Joe Biden, who barely had a campaign in the state. We should not be surprised that Harrison is bad at his job.
Take No. 4: Harrison is a COVID paranoiac whose fears are crippling his ability to do his job. We saw early signs of this in 2020:
He's not flying to meet with donors or visiting DNC headquarters. Instead, since he first took the post a year ago, Harrison has mostly stayed in his home state of South Carolina, according to people familiar with his schedule, as well as people who frequently see him around town. That has been a major point of consternation for the White House. . . . Harrison assumed a role that necessitates high energy, constant phone calls, video sessions and travel, but he has instead rendered himself nearly irrelevant by rarely leaving his hometown, more than a dozen sources said. Several sources said Harrison has complained of being cut out of tasks or briefings that previous DNC chairs may have viewed as more operational and would have delegated. His decision to stay closer to home has been a source of frustration to the White House, which would prefer him to have a more public-facing role, several people with knowledge of the dynamic said. Citing Covid and his young kids, he isn't flying cross-country to Los Angeles or to New York to woo donors, they say. He's also not spending time at DNC headquarters in Washington, which is open to staff on a voluntary basis and where visits could help boost morale for those who are going into the office during the pandemic . . .

Harrison's sensitivity to protecting himself and his family from the virus was on display during a 2020 campaign debate against Sen. Lindsey Graham, R-S.C., when he brought a plexiglass divider to separate himself from his adversary. At the time, he said he wanted to ensure the safety of his wife, his children and the grandmother who helped raise him.
With a hollow man at the top, a political disaster of a vice president, a trio of geriatrics running their House caucus, a Senate leader who is looking over his shoulder at the far left, cabinet members who disappear for months in a crisis or exude defeatism in war, and now a party chair who won't even travel to states Democrats can win, the Democratic Party of 2022 is a rudderless ship. Stormy waters lie ahead.
https://www.nationalreview.com/corner/the-democratic-national-committee-is-a-shambles/