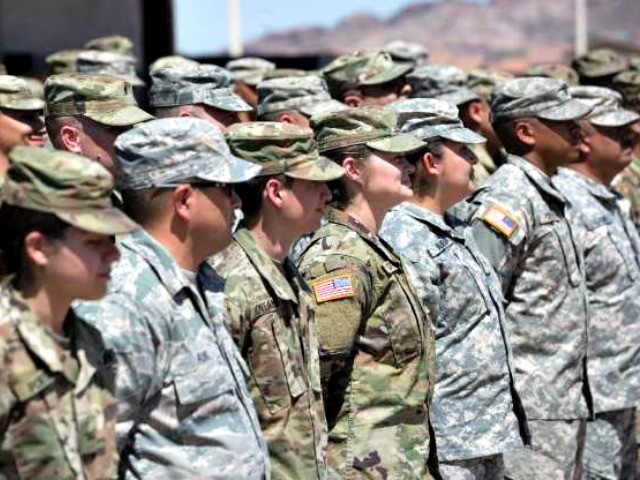 The Pentagon's Defense Logistics Agency has worked for months get Thanksgiving meals sent to U.S. troops serving overseas and at the Southwest border this year.
The agency sent more than 300,000 pounds of traditional Thanksgiving food to field kitchens, dining facilities, and galleys throughout the Middle East, Europe, Africa, and those serving on the border.
This year, troops received:
• 9,738 whole turkeys
• 51,234 pounds of roasted turkey
• 74,036 pounds of beef
• 21,758 pounds of ham
• 67,860 pounds of shrimp
• 16,284 pounds of sweet potatoes
• 81, 360 pies
• 19,284 cakes
• 7,836 gallons of eggnog
Troops serving at the border will also have a light-duty day.
Defense Secretary Jim Mattis was asked by a reporter last week what he would tell troops' families about them serving at the border over Thanksgiving. "We're a 365-day-a-year military. Rain or shine, light or dark, cold weather or hot weather — we have an all-weather force that's on duty 24/7," he replied.
"Drive around the Pentagon on Thanksgiving Day, and look at the number of cars in the parking lot of people who work right through the holidays. Some of you were with me when we were at Guantanamo Bay last Thanksgiving timeframe. Troops were down there," he added. "All I can say to the American people: Welcome to your military. It's on duty."
DLA began planning for the deliveries in May, working with regional and local vendors to ensure that military chefs had what they needed to prepare a festive holiday meal for those away from home this Thanksgiving.
"The Troop Support Subsistence team is a dedicated group of employees who take pride in ensuring that deployed service members can experience an enjoyable holiday meal each Thanksgiving," said Rich Faso, deputy director for DLA Troop Support's Subsistence supply chain in Philadelphia.
"Many of America's military men and women are away from home this Thanksgiving, making sacrifices to secure our freedom and to protect our southern border," said Army Brig. Gen. Mark Simerly, DLA Troop Support commander.
"The DLA Troop Support staff and I are excited about this amazing opportunity to provide them the very best Thanksgiving meal our country has to offer."
http://feedproxy.google.com/~r/breitbart/~3/ooxiZsx4Tp8/