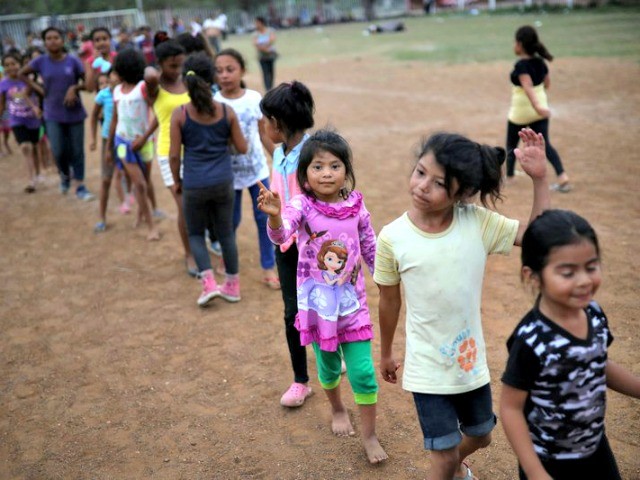 Immigration shelters in Texas are being overwhelmed by the massive numbers of unaccompanied minors who crossed the border from Mexico in recent months. The influx of migrant children placed more than 5,000 minors into shelters, according to the Texas Health and Human Services Commission (HHS).
As of October 18, immigration officials placed 5,385 mostly Unaccompanied Alien Children into shelters in Texas, the state agency responsible for oversight and regulation of shelters funded by the federal government reported. The number of children sheltered increased from 5,099 in the previous month.
"The 5.5 percent increase marks the largest month-over-month growth since the end of the Trump administration's 'zero-tolerance' policy in June, even as four new shelters opened in the last month," the Texas Tribune reported.
The Washington Post reported leaked preliminary numbers from the Department of Homeland Security (DHS) that claims Border Patrol agents arrested 16,658 Family Unit Aliens in the Rio Grande Valley Sector during September — an increase of 80 percent from July.
"Our nation faces a dangerous crisis on the border that threatens American communities," DHS Spokeswoman Katie Waldman told Breitbart News in response to an inquiry about the leaked report. "Congress refuses to close catch-and-release loopholes in the law that would allow authorities to detain and remove family units safely and expeditiously."
"While we do not have official numbers to report at this time, current trends indicate enforcement efforts against single adults entering illegally have been hugely successful," Waldman explained. "However, the removal of actual family units, or those posing as family units, has been made virtually impossible by Congressional inaction – which will most likely result in record numbers of families arriving illegally in the United States this year."
Shelter operators are asking Texas HHS officials to approve increases in the number of beds authorized for their facilities, the Texas Tribune reported. So far, officials approved requests from 16 facilities. HHS officials increased the capacity at shelters to 6,225 children.
HHS reports indicate that the Houston area has the largest population of sheltered migrant children outside of the border region. More than 1,000 are being housed in nine area shelters. In the Rio Grande Valley, 3,547 are being housed in 13 shelters.
The Texas Tribune details the breakdown of numbers of migrant children by facility. It also details the history of inspection violations in previous years.
"At the direction of the President," Walden concluded, "DHS is continuing to examine all options to secure the border and keep American communities safe, including working with our partners in Central America and Mexico."
Bob Price serves as associate editor and senior political news contributor for Breitbart Border/Cartel Chronicles. He is a founding member of the Breitbart Texas team. Follow him on Twitter @BobPriceBBTX and Facebook.
http://feedproxy.google.com/~r/breitbart/~3/L3Rpl7qkCKw/