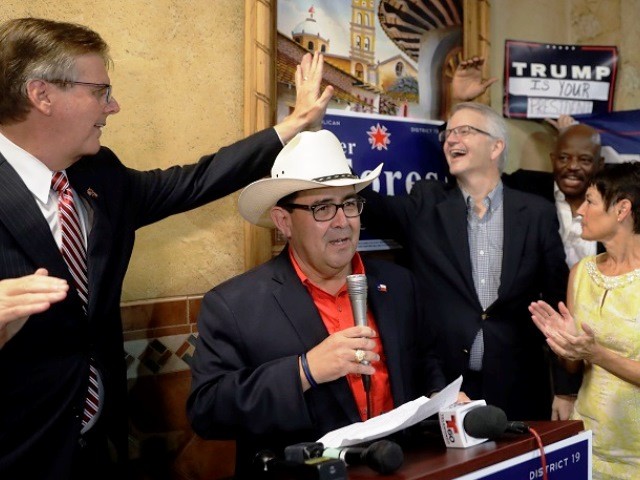 A Texas Republican will represent the people of the 19th State Senate District for the first time in nearly 140 years. The seat became vacant following the conviction in federal court of Democrat Carlos Uresti earlier this year.
Colonel Pete Flores, the retired commander of the Texas Parks and Wildlife Department's law enforcement division, shocked the Democratic Party with a commanding six-point victory in a special election runoff this week. Flores defeated former Democratic Congressman Pete Gallego by a 53-47 percent margin, the Texas Tribune reported. Flores defeated a field of seven Democrats that also included State Rep. Roland Gutierrez.
Republican leaders quickly jumped onboard to congratulate the senator-elect. Governor Greg Abbott (R) said:
I want to congratulate Pete Flores on his hard fought victory for State Senate in today's special election," said Governor Abbott. "I am proud to have endorsed Pete, and am certain he will fight for the interests of the people in SD-19, whether it's improving education, reining in property taxes, or expanding economic opportunity. Pete's strong law enforcement background will be invaluable to the legislature as we work to combat human trafficking and provide greater protections for our peace officers. I look forward to working alongside him next session to build a brighter future for all Texans.
Lt. Governor Dan Patrick introduced the senator-elect who will give the State Senate a 21-10 supermajority heading into the November General Election. Republicans need only 19 senators to stop Democrats from blocking legislative votes.
Lt. Governor Patrick said:
I am proud to have endorsed Pete Flores and that he has been elected as the new senator in SD 19. The people of this district know they will be represented by a hardworking and principled conservative. In flipping this seat from blue to red, the people of SD 19 have made it clear that it no longer belongs to the Democrats, it belongs to the people. I look forward to working with Senator-elect Flores in the next session.
Flores mounted a strong grassroots campaign to win the party's first victory in the district in 139 years. The candidate knocked on more than 20,000 doors and made more than 100,000 phone calls while bringing in $300,000 in campaign donations during the final weeks of the run0ff election, campaign consultant Matt Mackowiak said in a written statement. "Pete Flores was an outstanding candidate and he won this race with his integrity, experience, determination, hard work, and 30+ years of service to the state," Mackowiak wrote.
"I am honored by the trust the voters of SD 19 have placed in me to serve them in the Texas Senate and I will not let them down," Senator-Elect Flores said during his victory speech. "I will work hard to represent them and look forward to passing meaningful property tax reform, supporting our energy industry and the infrastructure that is needed in the Eagle Ford and defending innocent life and the 2nd Amendment in the legislative session. I am grateful to Lt. Gov. Dan Patrick and the Senate Republican Caucus for their support. The real work begins now!"
His victory comes as Texas Republicans are battling to fend off what media outlets are calling a "blue wave" that will sweep Republicans out of office in the Lone Star State. Democrats from across the country are pushing for victory in a U.S. Senate race between incumbent Senator Ted Cruz and Congressman Robert Francis "Beto" O'Rourke and several contested congressional races.
Despite massive fundraising efforts by the Democrat Senate candidate and heavy media coverage of O'Rourke's campaign, Senator Cruz still maintains a nine-point lead in recent polling, the Fox News reported.
Former House Speaker Newt Gingrich took note of Flores' historic victory and its possible impact on the November election.
"Flores, a political newcomer competing against a seasoned former Democratic congressman, won in a district that is 73 percent Hispanic and African American – despite virtually all political analysts' expectations," Speaker Gingrich wrote in a column for Fox News.
"Republicans everywhere should also study this Texas state special election and make the 2018 midterms a big choice election for all American voters. And with only 48 days left until November 6, they must act now," Gingrich stated.
Flores will serve out the remainder of the term of former Senator Uresti who awaits sentencing in federal court following his conviction for 11 counts of fraud in February. The term expires in 2021. He can run for a full term in 2020.
Bob Price serves as associate editor and senior political news contributor for Breitbart Texas. He is a founding member of the Breitbart Texas team. Follow him on Twitter @BobPriceBBTX and Facebook.
http://feedproxy.google.com/~r/breitbart/~3/8JROtyoHtqI/