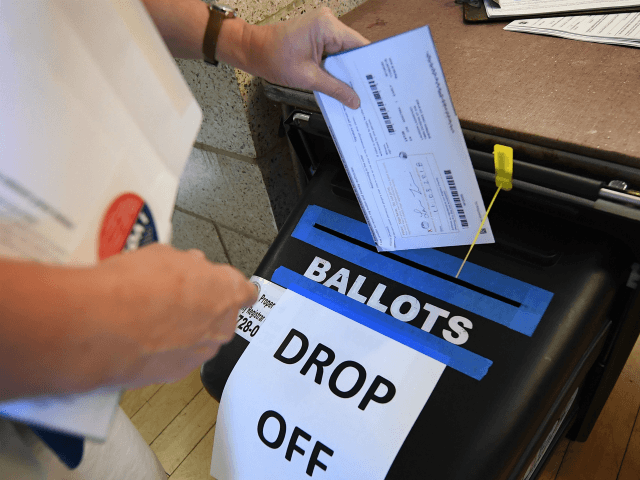 In a year fraught with numerous allegations and, in some cases, prosecutions over irregularities at the Texas ballot box, two new voter fraud investigations appear to loom in the Lone Star State.
Director of Elections Keith Ingram for the Texas Secretary of State requested the Office of Texas Attorney General Ken Paxton investigate a complaint that accused a South Texas councilman of committing voter fraud during the November 2018 midterm election in a school board race. In a letter sent on November 19 to David Maxwell, director of law enforcement for the AG's office, Ingram wrote:
The complainant alleges that on October 24, 2018, Hidalgo City Councilman Rodolfo "Rudy" Franz unlawfully assisted a voter by suggesting and instructing the voter on who to vote for while assisting them with their ballot. The complainant further alleges that Mr. Franz was asked multiple times by election workers to stop making suggestions and instructions to the voter, but that he continued to offer unlawful assistance despite their requests.
The complainant was a poll watcher, according to the Brownsville Herald. In his correspondence, Ingram noted the secretary of state believed the information they received "regarding the offense warrants a submission for criminal investigation" by the AG's office. However, Franz since denied those allegations, telling the Brownsville newspaper: "I've never illegally assisted anybody." He insisted: "Whoever I assisted, it's because they needed to be assisted or asked for assistance."
While this complaint stemmed from the City of Hidalgo, the county is one of several hotbeds of alleged voter fraud activity where the AG's office has lent considerable support and assistance to other investigations conducted by local district attorneys. So far this year, 14 individuals in Hidalgo County have been accused of violating elections laws in a 2017 Edinburg city election. They were arrested for their purported roles in a voter scheme that recruited people to falsely claim residential addresses so they could vote in specific races and influence the election's outcome. The Office of Hidalgo County District Attorney Ricardo Rodriguez will prosecute these cases.
Meanwhile, in East Texas, four investigators from the AG's elections unit office quietly visited Gregg County during the past two weeks as part of their probe into a complaint alleging voter fraud in the March 2018 Democrat Party primary election for a county commissioner's seat. In May, Paxton's office launched an investigation after county resident Rev. D.J. Nelson of Friendship Baptist Church filed a complaint with the Texas Secretary of State. At issue, the Precinct 4 commissioner race between Democrats Shannon Brown, the Easton mayor, and Kasha Williams, a former Longview city councilwoman. Breitbart News reported 787 of the primary's mail-in ballots tallied represented more than 37 percent of the votes cast in this contest. Brown defeated Williams by five votes, 1,047 to 1,042.
Furthermore, at least 226 of the 787 ballot applications claimed a disability, reflecting almost 29 percent. An unusually high number of these mail-in voters were under the age of 65. Only 2.5 percent of voters cast absentee ballots in the county's other three precincts. State Senator Bryan Hughes (R-Mineola), chairman of the Texas Senate Select Committee on Election Security, noted the statewide average of mail-in ballot applicants who claim a disability totaled nine percent. Additionally, the Precinct 4 applications showed five people assisted those 226 voters with their primary ballots, raising vote harvesting concerns.
Williams sought to challenge the razor thin election results in district court but a judge denied the lawsuit.
The Longview News-Journal reported on the reaction of Gregg County officials to the visit by the state investigators. Sheriff Maxey Cerliano said his office and that of the county's district attorney "provided additional resources" to accommodate the probe. "I think they have a plan, and again, the resources that we provided locally were utilized," said Cerliano. "They had some goals and objectives to achieve."
No further information about either of these investigations since has been released as Paxton's office "does not comment on potential investigations," according to ProPublica.
Follow Merrill Hope, a member of the original Breitbart Texas team, on Facebook and Twitter.
http://feedproxy.google.com/~r/breitbart/~3/Cm–8Q43ASU/