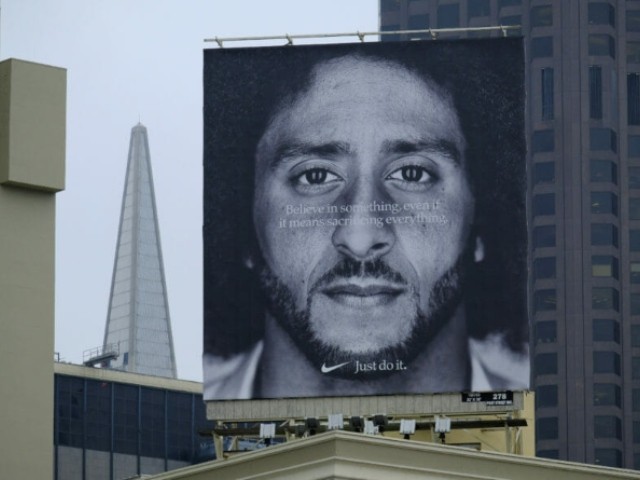 The Texas Farm Bureau has told its employees not to wear its Nike branded products to the workplace.
The bureau — Texas' largest organization representing farmers — made the new rule after Nike decided to make former anthem-protester Colin Kaepernick, the face of their "Just Do It" ad campaign. Kaepernick gained notoriety in the preseason of 2016 when he first sat, then knelt during the playing of the national anthem.
The first ads featuring Kaepernick began airing during Week 1 of the 2018 NFL season. The slogan for the campaign reads: "Believe in something, even if it means sacrificing everything."
According to the Dallas Morning News:
Farm Bureau communications director Gene Hall told the Waco station the decision was made to help its employees avoid controversy over wearing the brand's signature swoosh.

In a statement emailed to employees, the farm bureau said: 'There is a wide range of viewpoints on the Nike controversy. … We are choosing to remove our companies from this controversy by discontinuing the use of Nike branded apparel for business purposes. The attire you choose on your own time is a personal matter.'
Backlash against the Farm Bureau's decision came quick, prompting the Bureau to post the following tweet attempting to clarify their position:
Our request of employees only applies to Texas Farm Bureau branded apparel. All other apparel items are a matter of personal choice.

This decision was made to avoid the appearance of taking sides in this controversy. The KWTX story mentions most of this.

— Texas Farm Bureau (@TexasFarmBureau) September 15, 2018
The Texas Farm Bureau is not the only state or municipal entity looking to distance themselves from Nike. A town in Rhode Island recently debated a resolution calling on the city to ban all Nike products. In addition the Mississippi State Police also announced that they will no longer do business with Nike.
Follow Dylan Gwinn on Twitter @themightygwinn
http://feedproxy.google.com/~r/breitbart/~3/6JBwa_1sGpk/