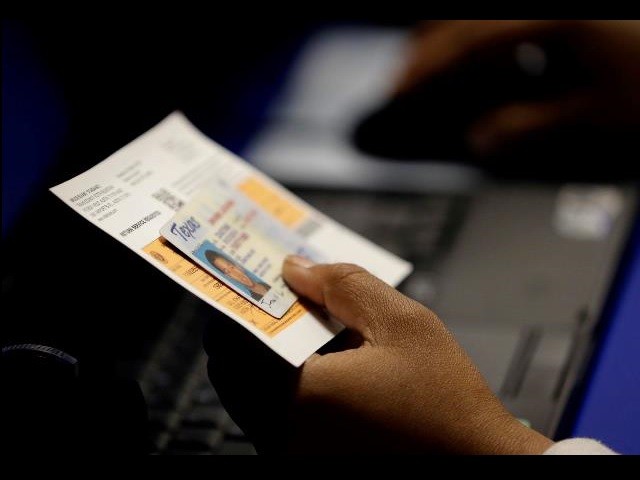 A United States District Court judge dismissed the lawsuit which challenged the Texas voter ID law, announced Attorney General Ken Paxton late Monday.
The 2017 Texas voter ID law (SB 5) cleared its final hurdle when the Fifth Circuit honored a request made last month by the opponents of the state's voter ID law to dismiss any remaining claims since the matter was settled and there was nothing left to pursue in this case. This marked the end of seven years of litigation over the state's attempts to enact a voter ID law.
"I'm proud of the successful fight my office waged to defend Texas' voter ID law," said Paxton in a prepared statement. "With this major legal victory, voter ID requirements remain in place going forward to prevent fraud and ensure that election results accurately reflect the will of Texas voters."
In August 2017, Obama-appointed U.S. District Judge Nelva Gonzales Ramos issued a permanent injunction against SB 5, saying it did not fully ameliorate "discriminatory features" of SB 14, the original 2011 voter ID law, which SB 5 was created to replace.
SB 14 required one of seven state-approved forms of photo identification to vote. The Texas law was challenged by the U.S. Department of Justice under the Obama administration as flawed and discriminatory against Hispanics and African-American voters. In 2014, Ramos threw out SB 14. The state appealed the ruling to the Fifth Circuit which largely upheld the Ramos opinion, although they ordered a temporary voter ID solution for Texas in the 2016 presidential election.
In 2017, when crafting the new legislation, SB 5, Texas lawmakers incorporated changes ordered by the Fifth Circuit. The revised law allowed registered voters without one of the seven forms of photo ID to cast an in-person ballot by signing a sworn declaration of reasonable impediment stating why they could not obtain photo ID. Perjury could result in up to two years in jail, if convicted.
Last December, Paxton defended the constitutionality of SB 5 at a hearing before the Fifth Circuit in New Orleans. Subsequently, the court overruled the earlier opinion by Ramos. Additionally, the U.S. Department of Justice under the Trump administration said it was satisfied that SB 5 "eradicates any discriminatory effect or intent," expands voter identification options, and is "constitutionally and legally valid."
In April 2018, a three judge panel of the U.S. Court of Appeals for the Fifth Circuit upheld SB 5, calling it an "effective remedy" to the 2011 law it replaced. This decision overturned a lower court's ruling that blocked Texas from enforcing the 2017 voter ID law.
"Safeguarding the integrity of our elections is a primary function of state government and is essential to preserving our democratic process," added Paxton on Monday.
Breitbart Texas has reported on the growing number of voter fraud claims statewide which Paxton's office has prosecuted, including in-person, mail-in ballot, and noncitizen voting cases. Also, the AG increasingly has assisted district attorneys in Texas counties and/or opened voter fraud investigations.
Follow Merrill Hope, a member of the original Breitbart Texas team, on Twitter.
http://feedproxy.google.com/~r/breitbart/~3/zbxXbDZOxAw/