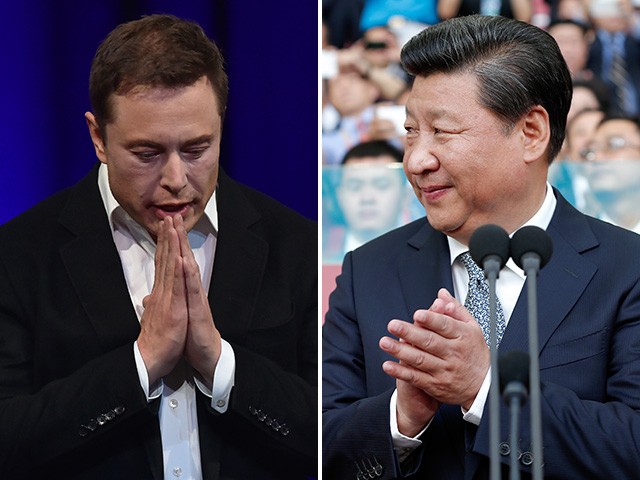 Elon Musk's Tesla has purchased a plot of land worth $140 million in Shanghai for the company's planned Chinese factory.
CNBC reports that Tesla has purchased an 864,885-square meter plot of land in the Lingang area of Shanghai where the company plans to build its first facility outside of the U.S. Musk's company purchased the land for approximately 973 million yuan, or $140 million, on Wednesday. Tesla's Chinese facilities floor space will span 1.7 million square meters according to property transaction records from the Shanghai-based financial data company Wind Info.
Chinese government regulations state that purchases of all industrial-use land are essentially leases that last for 50 years and can potentially be renewed. Tesla's facility in Lingang will join a host of other auto manufacturers in the area, Tesla reportedly expects to produce their first cars in three years of opening the plant and plans to produce 250,000 vehicles and battery packs a year, with plans to double that figure in the future.
Funding for the plant will reportedly come mostly from local debt and Tesla's own investment "will not start in any significant way until 2019." However, Tesla cannot take advantage of the same cash incentives as native Chinese car manufacturers and due to overall ocean transport and tariff costs, the company is operating at a 55 percent to 60 percent cost disadvantage compared to their domestic equivalent.
According to a recent filing related to Tesla CEO Elon Musk's settlement with the Securities Exchange Commission, Musk will be purchasing $20 million of Tesla's stock. "Separate and apart from the settlement, Elon has notified Tesla that he intends to purchase from Tesla, and Tesla expects that it will issue and sell to Elon, $20 million of Tesla's common stock during the next open trading window at the then-current market price," the filing reads.
Musk is still Tesla's largest shareholder, owning $9 billion worth of stock which is approximately 33 million shares. Musk also previously bought $24 million worth of Tesla in June and $9.9 million in May. Tesla shares are down ten percent in 2018 overall.
Lucas Nolan is a reporter for Breitbart News covering issues of free speech and online censorship. Follow him on Twitter @LucasNolan or email him at lnolan@breitbart.com
http://feedproxy.google.com/~r/breitbart/~3/VeHp4knkPiw/