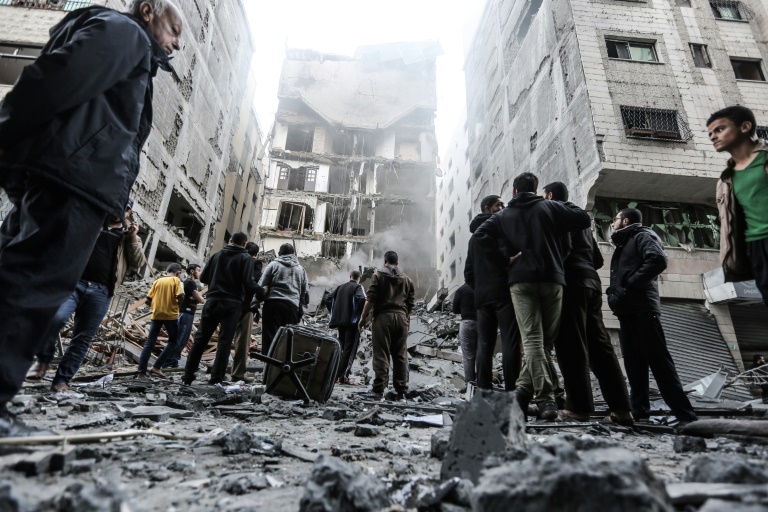 TEL AVIV – Despite reports of a ceasefire, projectiles continued being launched at Israel from the Hamas-run Gaza Strip on Tuesday afternoon. 
According to Palestinian media, Egypt requested Hamas and other Gaza-based terror groups stop the hostilities at 3:30 p.m. However, a fresh barrage of rockets was launched shortly thereafter, with a direct hit on a home in Hof Ashkelon that caused extensive damage to the house but no injuries.
Also on Tuesday afternoon, the security cabinet ended a seven-hour meeting with no announcement on a ceasefire pending. Defense officials instructed the military to continue its operations in Gaza "as necessary," according to a statement.
A senior Hamas official commented on rumors of a ceasefire between Israel and Hamas.
"Nothing new has been achieved in mediation efforts for a ceasefire," Ismail Radwan said.
"It is Israel that started the aggression and restoring calm depends on stopping the aggression on our people," Radwan added. "If Israel stops the aggression on Gaza, the resistance will stop its activity. All mediators must restrain Israel."
Seven Palestinians have been killed by Israeli operations in Gaza, according to the Hamas-run Gaza Health Ministry. Israel has seen 39 injuries and one person killed by direct rocket fire.
More than 150 military targets have been destroyed by Israeli jets but "there is ample room for additional targets," IDF spokesperson Lt. Col. Jonathan Conricus said. "We have signaled to Hamas over the course of this night that we have the intelligence and ability to strike a variety of military targets that belong to Hamas."
Hamas responded that it would shoot rockets deeper into Israel.
"Approximately one million Zionists will be within the range of our missiles if the Zionist enemy's decision is to continue its aggression," a Hamas spokesman said.
Another spokesperson said the attack on the coastal city of Ashkelon showed the city "has entered the range of fire as a response to the bombing of buildings in Gaza." He said Ashdod and Beersheba "are the next targets if the enemy continues bombing civilian buildings."
A spokesperson for the Palestinian Islamic Jihad terror group also based in Gaza, meanwhile, threatened to launch rockets targeting Tel Aviv.
Israel on Tuesday halted contacts with ceasefire brokers from Egypt and the United Nations. Together with Egyptian officials, Special Envoy to the Middle East Peace Process Nickolay Mladenov has been working toward reaching a ceasefire deal for the past few weeks between Israel and Hamas. However, the Jerusalem Post cited an unnamed western official who said the talks are still ongoing.
Some 210,000 Israeli children from the south did not attend school on Tuesday, and businesses and government offices remained closed, with people instructed to stay close to bomb shelters.
The massive barrage of rocket and mortar shells, which began Monday afternoon and persisted throughout the night and into Tuesday morning, appeared to be the largest-ever attack in a 24-hour period from the Gaza Strip, with more than twice the number of projectiles fired than on any single day of the bloody 2014 war.
The Israeli army struck a number of "key strategic targets" including Hamas's security headquarters and the terror group's Al-Aqsa television station, which was used to encourage terrorist activities. Hamas accused Israel of violating international law by raiding the TV station.
The army reinforced infantry troops around the area surrounding the border but refrained from a full-scale call-up of reservists.
"We are in the midst of a wide-scale process of accumulating more infantry, armored and other forces to the area adjacent to the Gaza Strip, and we are mobilizing reserves for Iron Dome operations and the Home Front Command," IDF Spokesperson Brig.-Gen. Ronen Manelis said.
More than 100 rockets were intercepted by the Iron Dome missile defense system and the majority of the rest landed in open fields. Several dozen landed inside cities and communities, some directly hitting homes in the southern towns of Ashkelon, Netivot and Sderot.
"The Iron Dome so far has been phenomenal, but even the Iron Dome is not hermetic and we cannot expect it to intercept everything, especially when it's dealing with this amount of rockets," Conricus said.
A man was killed in Ashkelon from a rocket that hit a building. He was identified as Mahmoud Abu Asbah, a 48-year-old Palestinian man from the Hebron area in the West Bank who had a legal permit to work in Israel. He left behind a wife and six children.
"It is unfortunate that of the dozens of rockets fired at Ashhkelon one was able to get through our defenses and hit a building in a populated area," Conricus said.
http://feedproxy.google.com/~r/breitbart/~3/MNR9ScIK-EY/