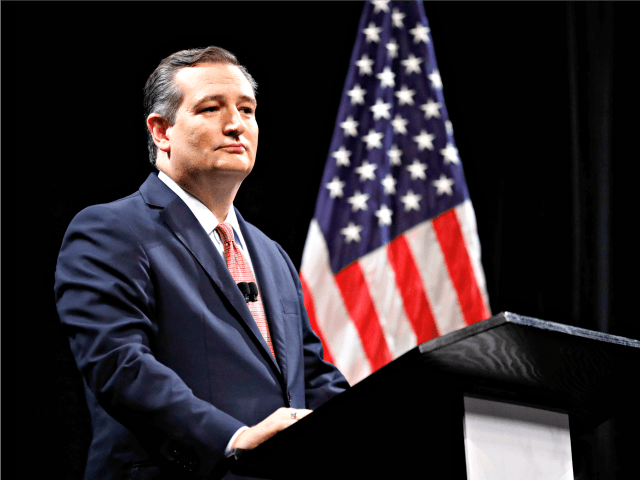 Sen. Ted Cruz (R-TX) said Friday evening during a highly-anticipated debate against his Democrat Senate opponent Rep. Beto O'Rourke (D-TX) in Dallas, TX, that the progressive congressman — akin to Hillary Clinton — supports the appointment of Supreme Court Justices that would "effectively write the Second Amendment out of the Constitution."
(Watch: 16:07 – 18:07)
A partial transcript is as follows: 
DEBATE MODERATOR: And we're moving on here, the next question [is] for Senator Cruz. Details are still being worked out, but Dr. Chrstine Blasley Ford may testify about her allegations of attempted sexual assault against Judge Brett Kavanaugh. Is there anything you could hear from here that would make you change your vote.

SEN. TED CRUZ: Well, absolutely. Listen, I very much hope Dr. Ford comes next week and testifies before the Judiciary Committee. I publically called for her to be given an opportunity to testify and I urged my colleagues. The allegations she's raised are serious and they deserve to be treated with respect. I hope that she comes. As a full opportunity to tell her story in a way that is respectful, but I also think Judge Kavanaugh deserves a full opportunity to defend himself and to let the American people listen and come to an assessment of what happened. We don't know right now. We need to give them a full hearing. I will say more broadly than this, this issue, whether it is Judge Kavanaugh, whether it is Neil Gorsuch, whether it is other Supreme Court nominees, reflects one of the many massive divides on policy, substance, and record between me and Congressman O'Rourke. Congressman O'Rourke doesn't want Judge Kavanaugh confirmed. He said that before these allegations, he said that after these allegations. He didn't want Neil Gorsuch confirmed.

Congressman O'Rourke agrees with Hillary Clinton. He wants liberal judiciary activists on the court, who will impose their particular policy. I have devoted virtually my entire life to defend the Constitution and Bill of Rights. I think one of the major issues the American people had before us in 2016 was 'what vision of the court you want?' I believe Texans want Constitutions on the Supreme Court, who will defend the First Amendment, who will defend free speech, who will defend religious liberty. religious liberty, one of the fundamental liberties, has been under assault. Who will defend the Second Amendment, and I would note that the Justices Congressman O'Rourke would insist upon, like Hillary Clinton, are Justices that would undermine and effectively write the Second Amendment out of the Constitution. Those are radical views and they're not views consistent with the overwhelming majority of Texans.
http://feedproxy.google.com/~r/breitbart/~3/DwWj4BlC7kc/