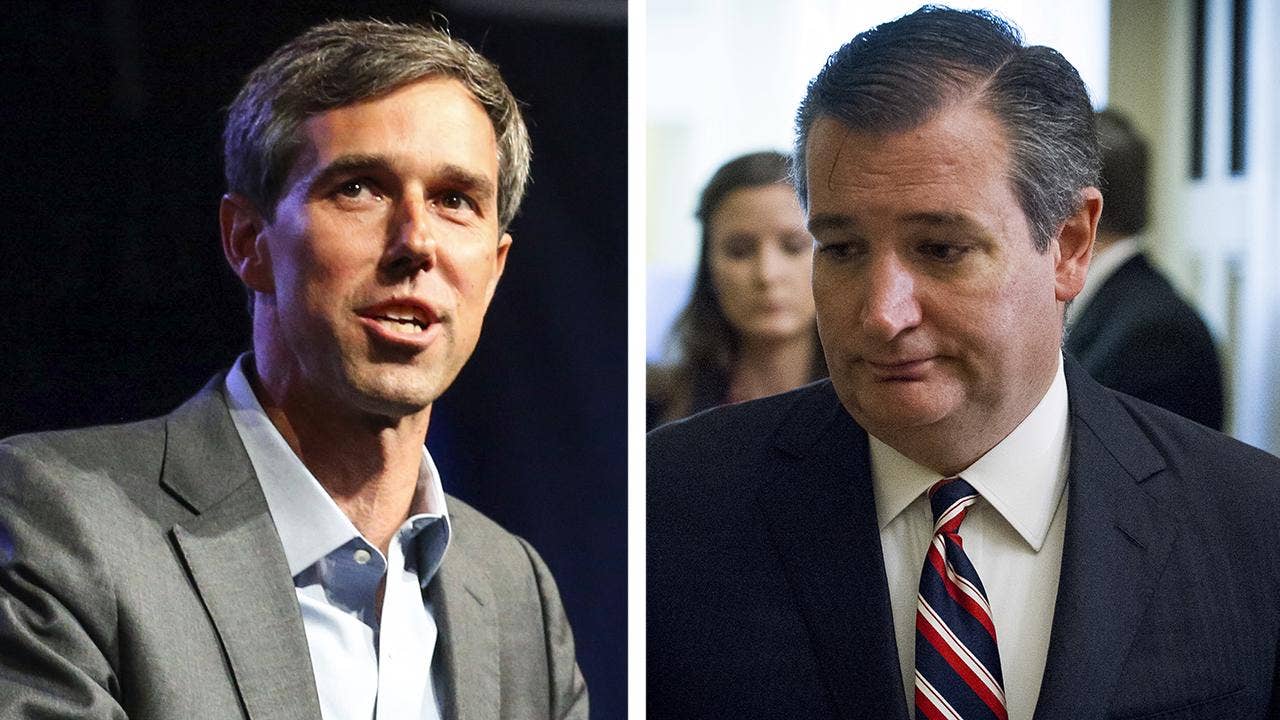 HOUSTON –  Sen. Ted Cruz, R-Texas, was approached at his high-rise campaign headquarters Friday morning by a young volunteer who wanted the incumbent senator to star in his latest Snapchat.
"It's my birthday and I'm here with the greatest person ever!" the young volunteer said.
Cruz knows he needs more of that kind of excitement, to head off a challenge from Rep. Beto O'Rourke, D-Texas, who now enjoys a fundraising advantage in one of this cycle's most expensive contests.
"We've got a race on our hands," Cruz said. "If you're a wealthy liberal sitting in New York City or Massachusetts or San Francisco right now and you could defeat one Republican in the country, it'd be me, that's why the money is flowing in here."
President Trump has pledged to come campaign for Cruz, something the conservative lawmaker welcomes. President Trump is also driving Democratic energy, which Cruz says correlates to his stiff re-election effort.
FULL MIDTERM COVERAGE AND RACE RATINGS
"With the election of Donald Trump, the far left has lost their minds," Cruz said. "The extreme left, they are energized, they're angry and they have a lot of hatred for President Trump."
O'Rourke declined to be interviewed in either Texas or Washington D.C. for this story, but he did hit the late-night circuit this week.
The Cruz campaign quickly figured out how to get in on the action, buying commercial time during O'Rourke's episode.
"Here's how scared Ted Cruz is of Beto O'Rourke – he bought ads on my show tonight to counter his interview," The Late Show's host Stephen Colbert said.
Cruz believes the joke is on the comedian.
"I do think it's funny that apparently Colbert is mad that anyone buys ads on this show," Cruz said. "The advertisers ought to follow his advice and not buy ads on his show because it makes him unhappy."
The 45-year-old O'Rourke has been likened to "The next Obama," by Esquire and "Kennedyesque" by Vanity Fair, and Cruz believes positive press like that encourages out-of-state Democratic donors.        
"Their favorite adjective is Kennedyesque," Cruz said. "They all talk about his hair and his teeth, they talk about no substance, nothing about his record, they don't talk about his being open to abolishing [Immigration and Customs Enforcement], they don't talk about his wanting to impeach the president."
http://feeds.foxnews.com/~r/foxnews/politics/~3/g15AzOjU1Vo/ted-cruz-says-his-texas-senate-race-is-competitive-because-far-left-has-lost-their-minds.html