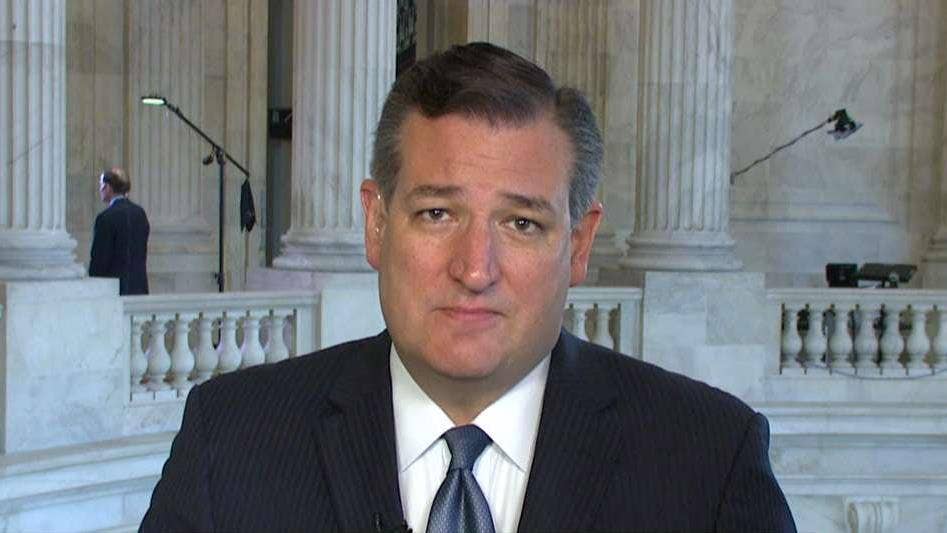 Sen. Ted Cruz became just the latest target Monday of a harassment campaign that has gone after GOP lawmakers and Trump administration members, as protesters forced him and his wife to flee a restaurant in Washington, D.C. 
The mob scenes have followed California Democratic Rep. Maxine Waters' call earlier this year for critics to accost Republicans in public places.
In this case, a group of protesters calling themselves "Smash Racism DC" hounded Cruz over his support for Supreme Court nominee Brett Kavanaugh, who is facing sexual assault allegations which he denies.
The activists shouted "We believe survivors" and "Sexist, racist, anti-gay!" while a woman quizzed the Texas GOP senator whether he believes the women making the allegations against Kavanaugh. 
"How are you gonna vote, sir?" the woman asked as Cruz got up and headed for the exit with his wife. A video posted by the group shows Cruz struggling to get through the crowd. "Excuse me, let my wife through," Cruz told the hostile group. The crowd cheered after Cruz eventually left the restaurant.
TED CRUZ HECKLED BY RADICAL PROTESTERS IN DC RESTAURANT: VIDEO
The tense scene follows a string of other incidents involving high-profile Republicans and administration officials who were confronted by crowds of activists in public spaces. 
On Twitter, former Bush White House press secretary Ari Fleischer voiced concern these protests are spinning out of control. 
"I lived in DC for 21 years. There were many contested, emotional battles. But this is awful. Washington has become a sick town," he wrote. 
Such scenes were encouraged by Waters earlier this summer when she told supporters, "If you see anybody from that Cabinet in a restaurant, in a department store, at a gasoline station, you get out and you create a crowd and you push back on them, and you tell them they're not welcome anymore, anywhere." 
In a TV appearance, she doubled down on her remarks, saying officials are "not going to be able to go to a restaurant, they're not going to be able to stop at a gas station, they're not going to be able to shop at a department store." 
MAXINE WATERS URGES SUPPORTERS TO FIGHT TRUMP WH, SAYS 'THE PEOPLE' WILL 'ABSOLUTELY HARASS' TRUMP STAFFERS
Her remarks followed the harassment of Homeland Security Secretary Kirstjen Nielsen at a Mexican restaurant over the administration's controversial "zero-tolerance" policy at the U.S.-Mexico border that resulted in family separations. 
"Shame!" one protester was heard shouting at Nielsen. "If kids don't eat in peace, you don't eat in peace," yelled another.
"How can you enjoy a Mexican dinner as you're deporting and imprisoning tens of thousands of people that come here seeking asylum in the United States?" another protester was heard yelling in a video posted by the Metro DC Democratic Socialists of America. 
VIDEO SHOWS DHS BOSS KIRSTJEN NIELSEN BEING HECKLED, HARASSED AT DC RESTAURANT
Stephen Miller, the controversial White House adviser, was accosted the same week as Nielsen when he stopped in an upscale Mexican eatery in Washington.
"Hey look guys, whoever thought we'd be in a restaurant with a real-life fascist begging [for] money for new cages?" one customer allegedly yelled upon seeing Miller, before the Trump staffer scurried away, according to the New York Post.
White Press Secretary Sarah Sanders blamed Waters' rhetoric for fueling the harassment campaign against supporters of Trump. She herself was booted out of a Virginia restaurant over her role, with the restaurant's owner citing morality and living up to "certain standards" as the reason for the ejection.
"Healthy debate on ideas and political philosophy is important," the press secretary said. "But the calls for harassment and push for any Trump supporter to avoid the public is unacceptable. America is a great country and our ability to find solutions despite those disagreements is what makes us unique."
Protest groups have begun targeting not only Trump administration officials. Senate Majority Leader Mitch McConnell and his wife – Transportation Secretary Elaine Chao – were confronted by protesters in late June as they left an event at Georgetown University.
Chao told the activists to "leave my husband alone!"
In an interview with Shannon Bream on "Fox News @ Night," McConnell praised his wife and criticized the protesters who in his view cross the line when they start threatening others.
"I'm a big believer in free speech, and sometimes what people say is not great," he said. "I do think poor behavior is not a great way to convey your views. And I think getting in people's faces in public places and trying to make them uncomfortable certainly is not a great way to sell your point of view."
MCCONNELL 'LOVED IT' WHEN ELAINE CHAO CONFRONTED PROTESTERS: 'I'VE GOT ONE TOUGH WIFE'
McConnell faced protesters again in July when he was verbally harassed by protesters calling for the abolition of U.S. Immigration and Customs Enforcement (ICE) as he left a Louisville restaurant.
"Where are the babies, Mitch?" shouted another protester, presumably in reference to the Trump administration's "zero tolerance" policy.
Fox News' Brooke Singman, Adam Shaw, Bradford Betz, Elizabeth Zwirz and The Associated Press contributed to this report.
http://feeds.foxnews.com/~r/foxnews/politics/~3/VKD71ynXANs/ted-cruz-latest-republican-accosted-after-maxine-waters-call-for-confrontation.html