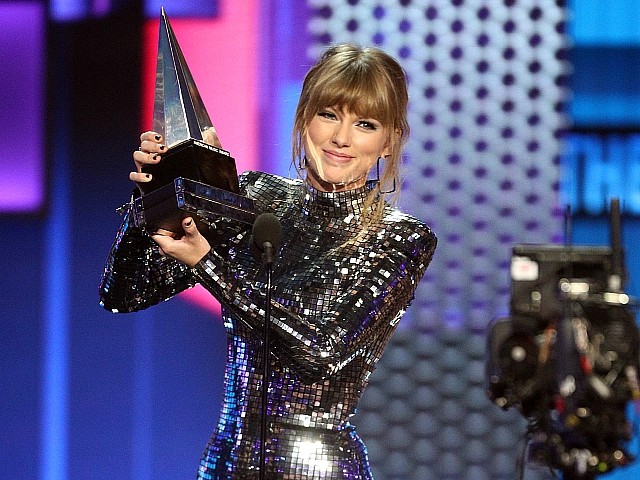 Pop superstar Taylor Swift used her American Music Awards acceptance speech Tuesday night to urge the audience "to get out the vote," just days after endorsing Democrats in Tennessee.
"This award and every single award given out tonight were voted on by the people, and you know what else is voted on by the people?" Swift said while accepting the "Artist of the Year" award. "It is the midterm elections on November 6. Get out and vote. I love you guys."
Is it cool that she said all that? Of course it is. @taylorswift13 accepts the award for #AMAs Artist of the Year! 🎉 #TaylorSwiftAMAs pic.twitter.com/EmTzjlB8uH

— American Music Awards (@AMAs) October 10, 2018
"This time it represents encouragement and motivation for me to be better, work harder and make you guys proud as much as I possibly can … so thank you for this incredible symbol of encouragement," the Grammy-winner said."
The voter-mobilizing speech came just days after Taylor Swift broke her long political silence and endorsed two Tennessee Democratic candidates, Phil Bredesen, who's running for the Senator's Bob Corker's Senate seat again Republican Congresswoman Marsha Blackburn, and Jim Cooper, who's running for House of Representatives.
"As much as I have in the past and would like to continue voting for women in office, I cannot support Marsha Blackburn. Her voting record in Congress appalls and terrifies me," the "Shake it Off" singer wrote in her lengthy Instagram post.
Swift backing Democrats enraged her fans, earned her praise among many Hollywood figures, and grabbed the attention of President Donald Trump.
"Let's say that I like Taylor's music about 25 percent less now," President Trump told reporters Tuesday, adding that Blackburn is leading her Democratic opponent in the most recent polls.
Follow Jerome Hudson on Twitter @jeromeehudson
http://feedproxy.google.com/~r/breitbart/~3/Qt6fmEnH344/