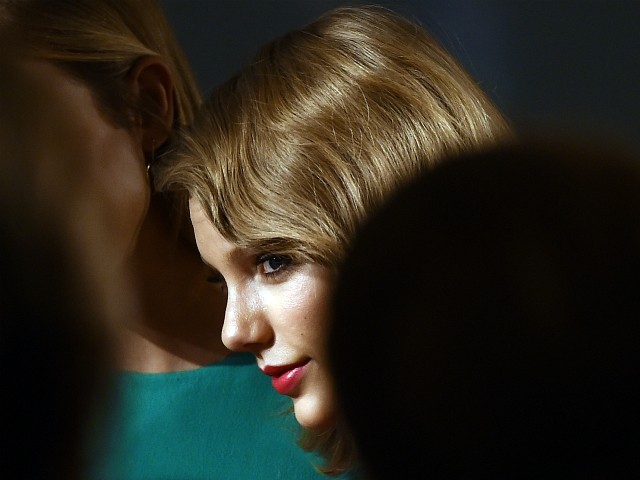 Some of pop superstar Taylor Swift's most loyal fans were angered by her far-left rant on Sunday evening, where she attacked Tennessee Rep. Marsha Blackburn, describing herself as "appalled" and "terrified" by the lawmaker's policies.
In a long Instagram post, the "Shake it Off" singer said that recent events in her life had led her to take a stand against Blackburn, who she implied would discriminate against women, black people, and homosexuals.
"I'm writing this post about the upcoming midterm elections on November 6th, in which I'll be voting in the state of Tennessee," Taylor Swift wrote. "In the past, I've been reluctant to publicly voice my political opinions, but due to several events in my life and in the world in the past two years, I feel very differently about that now."
"Blackburn's voting record in Congress appalls and terrifies me," she continued. "She voted against equal pay for women. She voted against the Reauthorization of the Violence Against Women Act, which attempts to protect women from domestic violence, stalking, and date rape. She believes businesses have a right to refuse service to gay couples. She also believes they should not have the right to marry. These are not MY Tennessee values."
While some of Swift's fans praised her for joining the leftist agenda, many of her followers were left less than impressed by her apparent virtue signaling.
@taylorswift13: Marsha Blackburn believes principles that have blessed this country for over 200 years. She believes in principles given to us by God. You now align yourself with Hollywood which is a cauldron of godlessness. I once liked and respected you so much.

— Lori Perkins (@RightLadyNC) October 8, 2018
I am very disappointed in @taylorswift13's recent comments about great candidate for US Senate @MarshaBlackburn. Does every pop star/actor have to voice their political opinions to the world? Newsflash: we don't care. Never have, never will. #VoteMarsha

— Aaron Farris (@AaronFarrisMN) October 8, 2018
@taylorswift13 Respectfully, be quiet and sing! I guess you're more pop than country now anyway. You're country fans are gonna be disappointed. Now you're on the level of Katie Perry.

— janice (@theemporersnew) October 8, 2018
@taylorswift13 I love ya but u r wrong about ms Blackburn please check her records on votes compared to all sex scandal the former governor had

— Michael Morrow (@koch41955) October 8, 2018
Taylor Swift can use her popularity to sway voters to vote Democrat. It's sad she must-lead the public due to her lack of knowledge of Blackburn. She lied. She lost my family and friends support. Only support she has now is from the Socialist. She's tied her wagon to baby killers

— Mike (@Mortimer1952) October 8, 2018
@taylorswift13 the one reason why I liked Taylor Swift as an artist was because I believed that she did not need to voice her political opinions. I am very disappointed as a black man whose daughter idolizes you. Why does everyone feel a need to voice their political opinion?

— Karl Haynes (@karlhaynes) October 8, 2018
@taylorswift13 So disappointed that you decided to play politics:(. I thought you were brilliant when you said, I am not going to tell people who to vote for, but I will encourage them to vote. With all the divide in this country, you were only place where politics didn't matter.

— beatio (@beatio) October 8, 2018
@taylorswift13 ssssshhhhhhhh. Don't start the political stuff sweetie. Please keep your views to yourself. Lots and lots of parents and grandparents will make sure money won't be spent on you. Super disappointed in you.

— Jami (@Merrtell) October 8, 2018
Swift's political outburst was particularly surprising to some people who believed she was secretly a Republican or of conservative and libertarian leanings. However, she has recently voiced support for progressive issues such as the LGBT agenda and even donated to the gun control campaign "March for Our Lives."
The 28-year-old singer was the source of controversy around the 2016 presidential election after she repeatedly refused to denounce Donald Trump while not revealing who she would vote for.
Last year, an editorial by The Guardian even described her as "an envoy for Trump's values," arguing that her music "[echoed] Trump's obsession with petty score-settling in their repeated references to her celebrity feuds" while also reflecting in "painstaking detail on her failed romantic relationships."
Follow Ben Kew on Facebook, Twitter at @ben_kew, or email him at bkew@breitbart.com.
http://feedproxy.google.com/~r/breitbart/~3/51cdLsTh4RI/