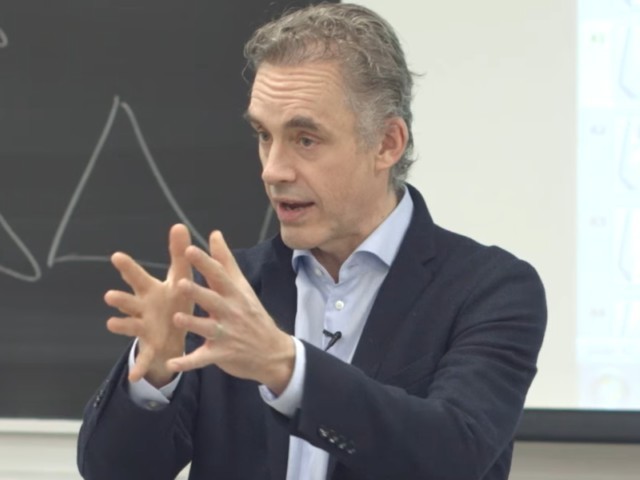 Swedish Foreign Minister Margot Wallström slammed Canadian professor Jordan Peterson's recent visit to Stockholm saying the academic should "crawl back under the rock he came from."
Earlier this week, Dr Peterson visited the Swedish capital as part of an ongoing speaking tour alongside U.S. political commentator Dave Rubin following the publication of Peterson's book 12 Rules of Life: An Antidote to Chaos.
Commenting on the visit of Peterson to Sweden, Foreign Minister Wallström said, "I do not understand why people spend so much time on that man," and though she agreed with Peterson's call for young men to "clean their rooms" she added, "I think he should crawl back under the rock he came from."
Moderate Party MP Hanif Bali reacted to the comments saying, "Margot Wallström is the equivalent of a vegan activist who throws paint on grannies in furs but shuts up when Hells Angels show up in leather."
Swedish Foreign Minister Says Russia Biggest Threat, Calls For 'Feminist Security Policy' https://t.co/oTria2GM67 pic.twitter.com/AoRxDuqVpz

— Breitbart London (@BreitbartLondon) February 24, 2016
Swedish writer Rebecca Weidmo Uvell added, "Embarrassed. That this should represent our diplomacy and the Minister of Foreign Relations. This is not actually behaving. Margot Wallström should be ashamed and ask both Jordan Peterson and her own clients — the Swedish people — forgiveness."
The comments are not the first controversial statements made by the Swedish foreign minister in recent years. In 2016, she came under scrutiny from Israeli Prime Minister Benjamin Netanyahu after she demanded investigations into the shootings of Palestinians by the Israeli Defence Forces.
"It's outrageous, it's immoral and it's stupid," the Israeli leader said at the time and added, "The other day in Paris a knife-wielding terrorist was shot to death, is that extrajudicial killing? Does the Swedish foreign minister suggest that there be examinations of what happened there in Paris?"
The Swedish minister also attacked Hungary earlier this year when she claimed that Hungarian Prime Minister Viktor Orbán and his Fidesz party were forming, "an alliance against 'the democrats and the left' in Europe, naming Macron as their main opponent," and added, "I have one thing to say to them: bring it on."
The Hungarians reacted to the comments by summoning the Swedish ambassador, with Hungarian Foreign Minister Péter Szijjártó calling the statement "a new attack on Hungary by the pro-immigration Swedish government."
Follow Chris Tomlinson on Twitter at @TomlinsonCJ or email at ctomlinson(at)breitbart.com
http://feedproxy.google.com/~r/breitbart/~3/Pi8vo_7qH4U/