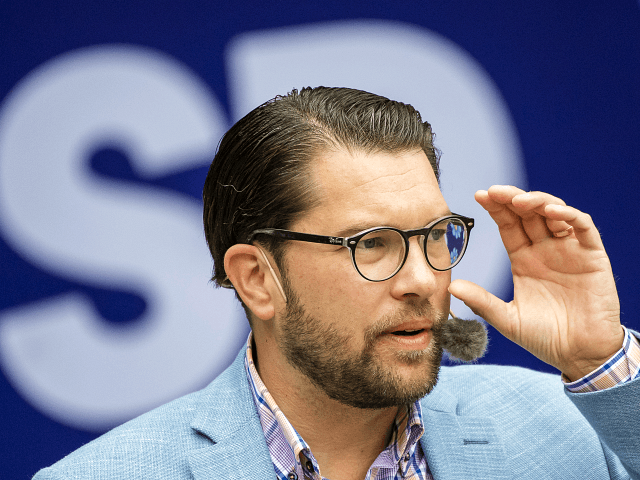 Populist Sweden Democrats leader Jimmie Åkesson has offered to resign as party leader if the move would help secure a coalition with the reluctant Moderate Party.
Mr Åkesson, who has led the Sweden Democrats (SD) since 2005, opened up the possibility of his resignation if such a move could help negotiations, Nyheter24 reports.
Referring to the Moderate Party leader, Åkesson said: "Now it's not up to Ulf Kristersson who chooses SD's party leadership, but if he would say, 'If you change Åkesson then we can form a government together,' then yes, that's the content of politics that's important."
"And in this very hypothetical context I could possibly ask the party if they think it's a good idea," he added.
The proposal comes after a survey of Moderate Party politicians performed by Swedish newspaper Expressen revealed that a majority of the party's elected officials were open to coalition talks with the SD.
Since becoming the leader of the party in 2005, Åkesson has worked to reform the old image of the Sweden Democrats away from the far-right and toward a modern populist-conservative platform.
Majority of Swedish Moderate Party Politicians Open to Governing Agreement with Populists https://t.co/tBD42v8sPD

— Breitbart London (@BreitbartLondon) September 19, 2018
The rehabilitation of the image of the party has led to growing success in elections, with the SD seeing their largest vote share in the party's history in this year's national election where they gained 13 seats in the Swedish parliament, the largest gain of all parties involved in the vote.
The party won so many seats in local municipalities that they ended up with the unique problem of not having enough candidates to fill them all. The issue arose from the party opting for closed party lists in areas where they won a much larger share of the vote than anticipated.
So far, no party in Sweden has managed to agree to a coalition deal to form a government since the election, but the parties did vote to end the reign of Social Democrat leader Stefan Lofven as the country's Prime Minister last month.
Follow Chris Tomlinson on Twitter at @TomlinsonCJ or email at ctomlinson(at)breitbart.com
http://feedproxy.google.com/~r/breitbart/~3/LjLPIuUZOQU/