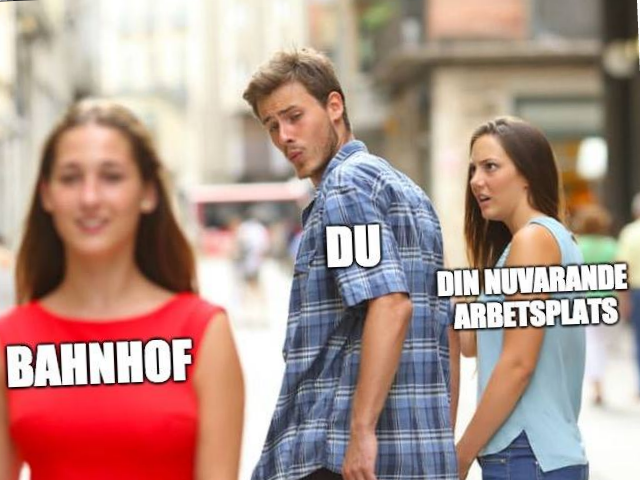 Sweden's advertising watchdog has ruled that a Stockholm internet company's use of the 'distracted boyfriend meme' in a recruitment ad was sexist.
The Advertising Ombudsman said internet service provider (ISP) Bahnhof 's inclusion of the now-famous image — which shows a man turning away from his girlfriend to admire another woman — in a jobs vacancy advert, suggested women were "interchangeable in the same way as a change of workplace".
In Facebook and Instagram posts, the Stockholm-based company had shown the boyfriend turning away from "your current workplace" to stare at "Bahnhof", alongside a message advertising sales jobs and vacancies for operating engineers and web designers.
"The purpose was to illustrate that Bahnhof is an attractive employer and that persons who have a somewhat-less attractive employer could be interested in us," the ISP company said in a statement posted to its website Tuesday.
But the ombudsman's opinion committee unanimously ruled the jobs posting to be "gender-discriminatory" and in breach of International Chamber of Commerce anti-sexism regulations against portraying "stereotypical" gender roles or individuals as "sex objects".
All members of the review panel reportedly agreed the advert objectifies women, asserting that it portrays females as "interchangeable objects", the only interesting feature of which is their appearance.
A number of committee members also warned of it highlighting "stereotypical gender roles" including that it gives the impression "that men can change their partners in the same way they would change jobs", according to the ruling.
With Sweden's official website proclaiming that "gender equality is central to the Government's priorities", the Scandinavian nation has been somewhat of a pioneer in pushing to eliminate differences between the sexes' behaviour and preferences.
You'd think she'd have more important things to worry about right now https://t.co/V5Gi7OWE7p

— Breitbart London (@BreitbartLondon) March 10, 2017
The Advertising Ombudsman made headlines in 2012, a year in which Sweden also introduced genderless pronouns, when it ruled toy companies must show boys playing with dolls and girls playing with toy guns in their marketing catalogues, with the watchdog's head, Elisabeth Trotzig, commenting at the time, "Swedish society is seeking an egalitarian relationship between men and women."
But scientists have said the nation's now decades-long, top-down commitment to deconstructing gender — which includes the requirement that all preschools work to "counteract" traditional roles — is unlikely to have much effect, with research on toy preference finding children's preference for gendered toys which match their sex is similar in "equality"-pushing nations like Sweden to that in less egalitarian countries.
Emeritus professor of biochemistry and public awareness of science officer at University College Cork (UCC) revoked the Scandinavian country for tending to treat gender differences in children "as a disease", noting that "the preponderance of scientific (biological and psychological) evidence indicates that the social gender engineering proposed in Sweden is wrong".
"Male and female are different but equal and the equality agenda is damaged rather than served by trying to eliminate difference," Reville wrote in the Irish Times.
Research: 95% Gender Sociology Papers Deny Biological Differences https://t.co/4UsW63xoGX pic.twitter.com/7C28TVqW60

— Breitbart London (@BreitbartLondon) October 26, 2016
http://feedproxy.google.com/~r/breitbart/~3/AFgC0g-bsVE/