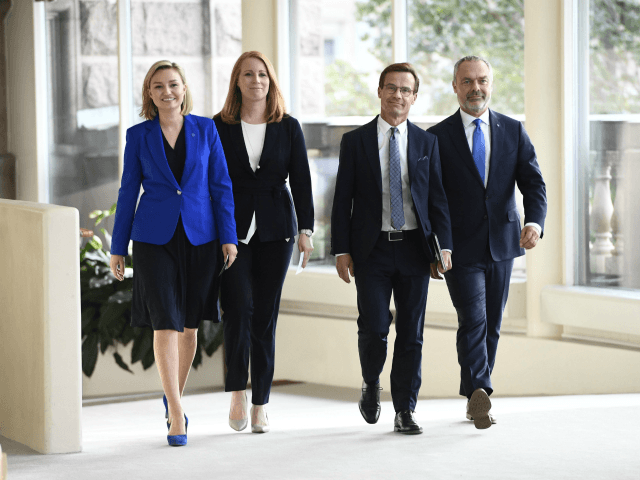 Over two months since the Swedish national election in September, no government has been formed as the centre-right alliance has nearly split over the question of working with the populist Sweden Democrats.
The vote saw the traditional parties of government lose support, while insurgent parties including most prominently the Sweden Democrats saw their popularity rise. The results left the traditional coalitions unable to form a working government without the Sweden Democrats, who had become the third largest party.
Sweden Election Continues the Rapid Decline of Social Democrat Politics in Europe https://t.co/XlxlvbcO1A

— Breitbart London (@BreitbartLondon) September 13, 2018
The Moderate Party, led by Ulf Kristersson, are the largest party in the centre-right Alliance that includes the Centre Party, the Liberals and the Christian Democrats, and though Kristersson has attempted twice to form a government, both the Centre Party and the Liberals have resisted any form of cooperation with the Sweden Democrats (SD) which would give them enough members of parliament to control the house.
Last week, Kristersson lost the vote to become the new Prime Minister of Sweden 195 to 154 in the Swedish parliament, with Centre Party leader Annie Lööf directing her criticism toward Kristersson and the Christian Democrats saying, "It is clear that it is sad that you choose to go with a less moderate government that requires SD's active support."
The Moderates have also proposed a transitional budget, which has been supported by the SD along with the Christian Democrats, but support has been reluctant from the other two members of the Alliance with the Liberals saying they would present their own budget requests before backing the Moderates.
Majority of Swedish Moderate Party Politicians Open to Governing Agreement with Populists https://t.co/tBD42v8sPD

— Breitbart London (@BreitbartLondon) September 19, 2018
According to polls, a majority of Moderate Party voters and a majority of currently serving Moderate Party politicians are open to a dialogue with the populist SD, but the Centre Party and Liberals still continue to resist the idea.
The resistance could cost the Liberals if there is a snap election according to Swedish broadcaster SVT who cite a recent Novus poll that shows the liberals not only losing their share of the vote but facing the real prospect of getting under the four percent threshold to hold seats in the Swedish parliament.
The same poll shows that the SD would also gain from a snap election, with the party polling at 19.2 percent, up from the September result of 17.5 percent, tied with the Moderates.
Follow Chris Tomlinson on Twitter at @TomlinsonCJ or email at ctomlinson(at)breitbart.com
http://feedproxy.google.com/~r/breitbart/~3/YmTRFi4JmP4/