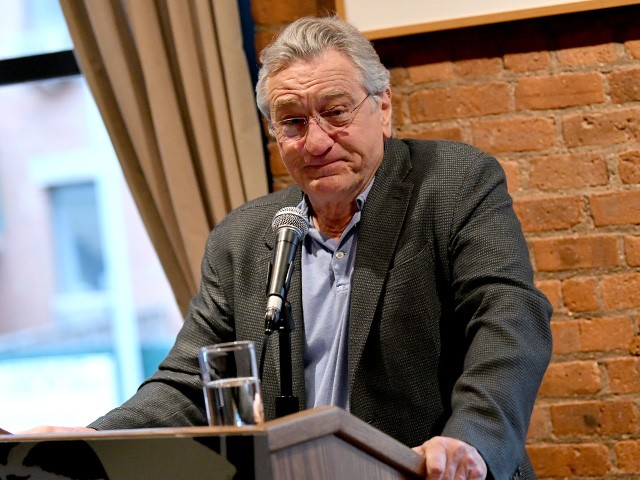 The NYPD is investigating a suspicious package found near a Tribeca area-restaurant owner by veteran actor Robert De Niro on Thursday morning, according to several reports.
An official said a building worker of De Niro's Tribeca Grill and the offices of Tribeca Films alerted law enforcement at 4:00 a.m. EST of a suspicious package. Police quickly rushed to the offices' location to evacuate the building, which was empty at the time, and inspect the package.
HAPPENING NOW: NYPD probes suspicious package sent to actor Robert De Niro in Manhattan https://t.co/6rxLk54ANU pic.twitter.com/PxXbTyZOLf

— CBS News (@CBSNews) October 25, 2018
The device removed from the actor's office appears to be connected to others sent to leading Democrat Party figures and CNN, the Associated Press reports.
BREAKING: AP Source: Suspicious package removed from Manhattan building was addressed to Robert De Niro.

— The Associated Press (@AP) October 25, 2018
The U.S. Secret Service said agency personnel intercepted several crude pipe bombs mailed to former President Barack Obama, former Secretary of State Hillary Clinton, and ex-Attorney General Eric Holder. Additionally, CNN evacuated its Manhattan headquarters after an explosive device was found at the news network's Time Warner Center offices. Later, authorities revealed the package was addressed to former CIA Director John Brennan — who is not an employee of the network, but rather a contributor to MSNBC.
President Donald Trump on Wednesday condemned the attempted bomb attacks and called on Americans to "come together."
"Acts or threats of political violence have no place in the United States," President Trump said. "This egregious conduct is abhorrent."
http://feedproxy.google.com/~r/breitbart/~3/98QKZKFx6pk/