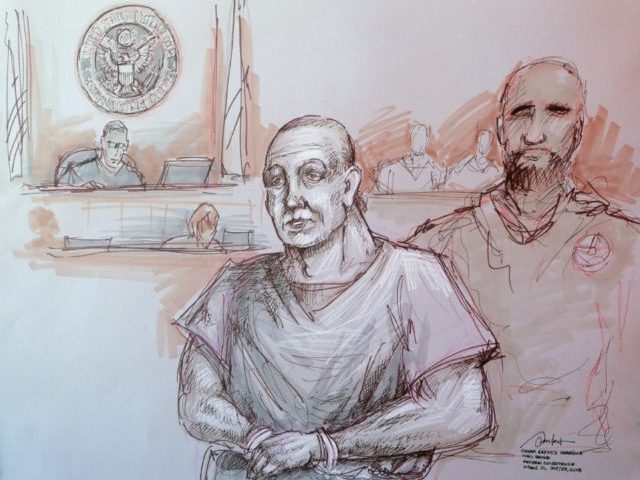 Cesar Sayoc, the suspected sender of mail bombs to several high-profile liberal politicians as well as to CNN and George Soros, was indicted on 30 felony charges Friday.
The federal charges against Cesar Sayoc "include the use of a weapon of mass destruction, interstate transportation of explosives, illegal mailing of explosives and threatening interstate communications," ABC News reports.
If convicted, Sayoc could face life behind bars.
Last month, apparent mail bombs were sent around the country, targeting CNN's New York City office, as well as the homes of George Soros, Robert De Niro, Bill and Hillary Clinton, Barack Obama, and other Democratic politicians.
Sayoc was arrested in connection to the mail bombs in Plantation, Florida, on October 26th.
WATCH: New video shows bombing suspect Cesar Sayoc being walked into FBI headquarters in handcuffs. https://t.co/cD9YHlzTQ3 pic.twitter.com/fZNRIqWE1U

— CBS News (@CBSNews) October 26, 2018
His social media presence showed he was a strong supporter of President Donald Trump and a believer in many conspiracy theories. He also had a long criminal history, including previous bomb threats.
President Trump strongly condemned the mail bombs, saying that the "egregious conduct is abhorrent to everything we hold dear as Americans."
"In these times, we have to unify, we have to come together, and send one very clear strong unmistakable message that acts and threats of political violence of any kind have no place in the United States of America," he said.
Left-wing journalists, particularly at CNN, took every opportunity to point out that the targets of the bombs were largely people who had been criticized by President Trump.
Conservative media was also criticized for its coverage of some of the targets. CNN's Brian Stelter said that the victims had "all been criticized mercilessly by right-wing outlets."
http://feedproxy.google.com/~r/breitbart/~3/KniW2Mh7ksU/