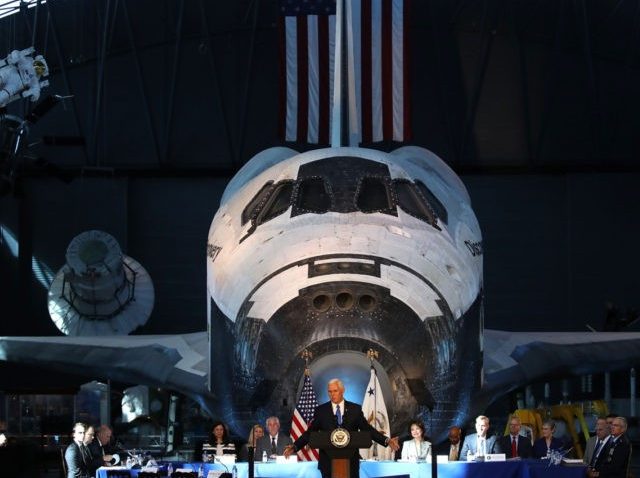 A surge of imports of a key compound used in nuclear missiles and tactical rockets is raising the risk that the sole United States producer could fall into financial distress.
Northrop Grumman Innovation Systems has imported large quantities of sodium perchlorate this year, according to shipping documents reviewed by Breitbart News. Sodium perchlorate is used to manufacture ammonium perchlorate, a propellant used to control how quickly and powerfully solid rocket fuel burns. It is used in everything from the space shuttle's boosters, the rockets used for satellite launches to nuclear-tipped missiles aboard Navy submarines.
The imports appear to be aimed at allowing Northrop Grumman to avoid buying the propellant from its only U.S. manufacturer, American Pacific Corp., according to people familiar with the matter. That could put American Pacific, which is controlled by Utah's Huntsman family, in financial jeopardy, according to a person familiar with the matter.
Northrop Grumman may be planning to build its own ammonium perchlorate plant that would use the chemicals it has imported, a person familiar with the matter said. But unlike the ammonium perchlorate produced by American Pacific, which are produced entirely from domestic sources, this process would rely on imported chemicals, the person said.
"Producing ammonium perchlorate is the only reason someone would be importing this material," a person familiar with chemistry said.
Earlier this year Northrop Grumman acquired Orbital ATK, the top manufacturer of solid fuel rockets in the U.S. The company consumes about half the domestic supply of ammonium perchlorate. It has told government officials that it wants to avoid paying what it calls American Pacific's monopoly prices in order to hold down costs to taxpayers.
The failure of American Pacific would make the U.S. entirely dependent on imports to produce ammonium perchlorate. The company needs to make roughly $60 million a year to stay in business, according to a person familiar with the matter.
"Critical national security and space launch systems should be powered by rocket fuel made by American companies using domestic sources, not foreign imports," Hal Murdoch, the Chief Executive of American Pacific said.
An adviser to President Trump said the administration has mulled action to protect domestic ammonium perchlorate production on the basis of national security, just as it imposed steel and aluminum tariffs to protect their domestic producers earlier this year.
"If American Pacific goes down, everything from our nuclear arsenal to our plans for Space Force becomes vulnerable and dependent on foreign production," the adviser said.
Shipping documents show that ATK Launch Systems, a subsidiary of Orbital ATK, purchased hundreds of thousands of kilograms of sodium perchlorate in the first seven months of the year. In June, Orbital was acquired by Northrop Grumman and renamed. In August, Northrop Grumman imported tens of thousands of kilograms of sodium perchlorate. Shipping documents since then show additional imports of the chemical but the name of the buyer has been redacted.
Northrop Grumman did not respond to a request for comment on its imports.
Orbital came under pressure from the Trump administration last year when it purchased more than one million pounds of low-priced ammonium perchlorate from a French firm. Military and space advisers to the president sounded the alarm at the time, saying the foreign purchases posed a national security threat. Rep. Duncan Hunter, the California Republican, proposed a bill this year that would have banned importing the chemical.
Because American Pacific enjoys a de facto monopoly on domestic production and has high fixed costs, the price it charges for ammonium perchlorate rises when demand falls to ensure the company can meet its minimum revenue needs. Customers have complained that the prices are too high, particularly when compared with foreign producers.
The Huntsman family, led by patriarch John Huntsman, Sr., has built a global chemical-making empire. When they gained control of American Pacific in 2015 from a private equity company, the company had been struggling for years due to military budget cuts. The Trump administration's plans to revitalize the U.S. military and expand U.S. space programs was expected to revive the company's fortunes.
John Huntsman, Jr. serves as the U.S. ambassador to Russia.
http://feedproxy.google.com/~r/breitbart/~3/9uqzia8Lpas/