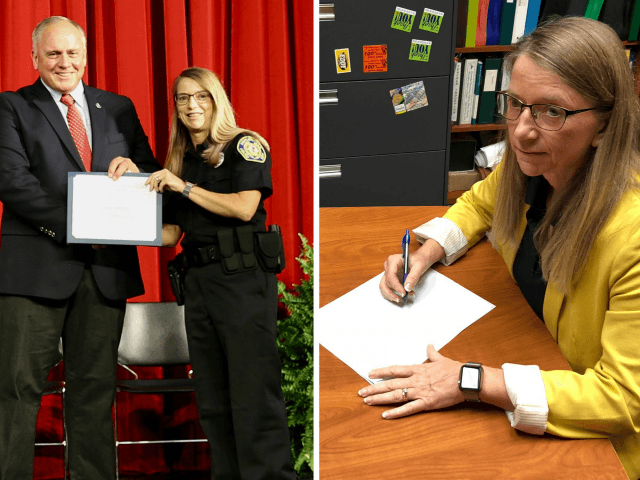 Hutsonville, Illinois, school superintendent Julie Kraemer became a cop so she could carry a gun at school and protect her students.
Time reports that Kraemer's district lacked "the budget to hire a full-time school resource officer," so she decided to become an officer in order to carry a gun with her on campus at no cost to the school. She started the police academy in January and graduated on September 22.
She carried a gun on campus last week for the first time in two decades of working in education.
Kraemer said, "If somebody comes in to try to hurt my kids, we have something other than a stapler to throw at them. We're no longer a soft target. We have some options. I'm just going to be a superintendent that happens to also be a police officer."
Kraemer's district is in a rural area where there are "about 320 students, all on the same campus." She said it is easy to sit idly and think an attack would never happen in such a setting, but an attack did happen in nearby Mattoon, Illinois. On November 30, 2017, the Chicago Tribune reported that the Mattoon attack involved a student pulling out a gun in the cafeteria and shooting another student.
That was the final straw fro Kraemer.
She said, "I love all my kids, but if it comes to a situation where I'm walking down the hall and one of them is taking the lives of some of my other kids, then no, I won't hesitate because of that."
AWR Hawkins is an award-winning Second Amendment columnist for Breitbart News, the host of the Breitbart podcast Bullets with AWR Hawkins, and the writer/curator of Down Range with AWR Hawkins, a weekly newsletter focused on all things Second Amendment, also for Breitbart News. He is the political analyst for Armed American Radio. Follow him on Twitter: @AWRHawkins. Reach him directly at awrhawkins@breitbart.com. Sign up to get Down Range at breitbart.com/downrange.
http://feedproxy.google.com/~r/breitbart/~3/ngSSyi2LuPw/