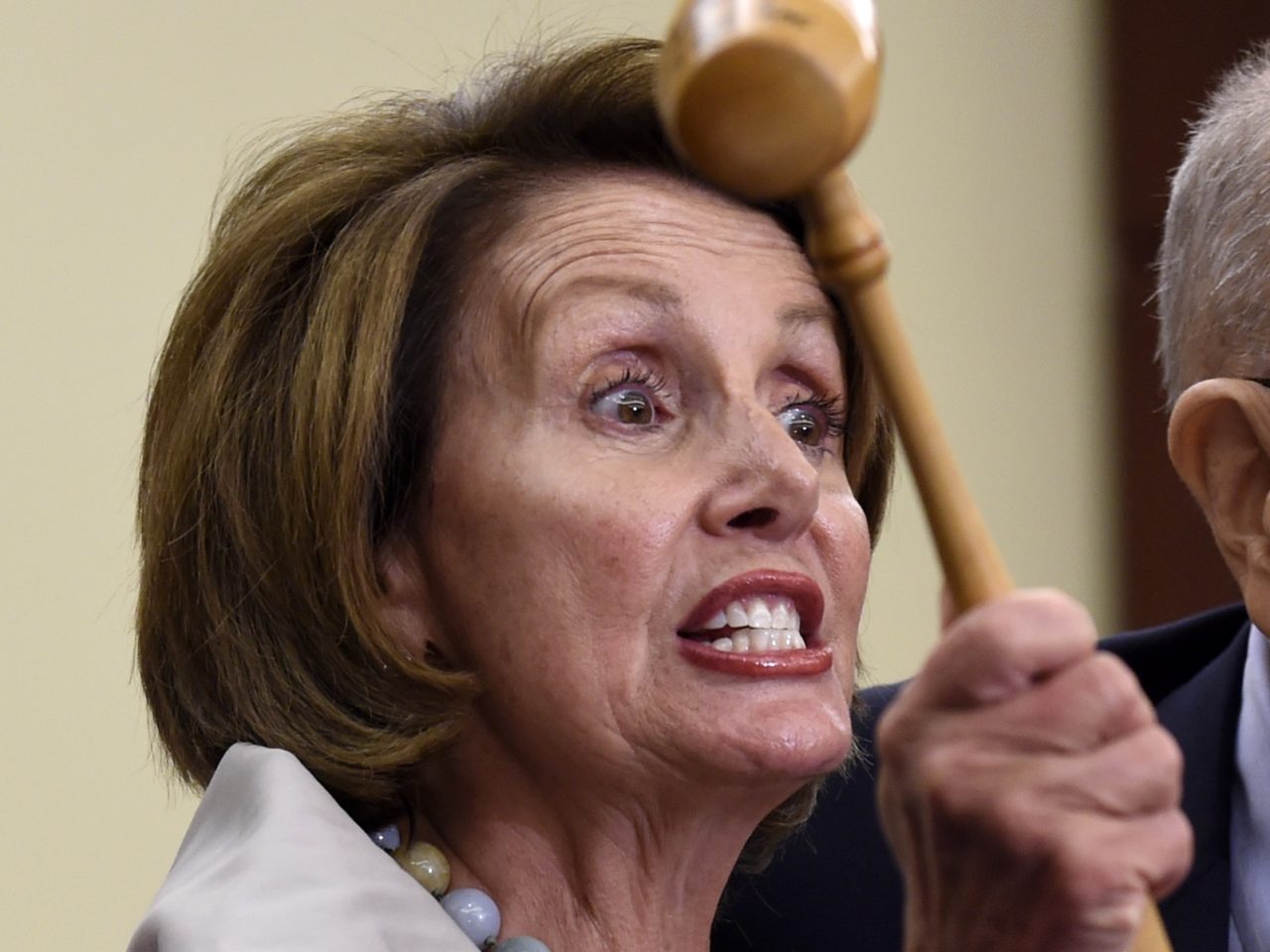 House Minority Leader Nancy Pelosi (D-CA) accidentally called for "lower tax" before catching her misstatement by looking at her script. The slip occurred during her weekly Friday press conference in Washington, DC.
Pelosi said, "We have an agenda for the people: Lower tax — lower healthcare costs by reducing the cost of prescription drugs, bigger paychecks by building the infrastructure of America, and cleaner government by reducing the role of dark special interest money in politics."
WATCH:
Pelosi further mispronounced "done deal" by enunciating "dundee."
WATCH:


Despite referring to Judge Brett Kavanaugh as an "assaulter," Pelosi claimed to support due process:
Do they not have daughters? Do they not have wives? Do they not have sisters? Do they not have mothers? It's a strange group, that when someone comes forward, they mock the allegation and praise the assaulter.

…


I believe in due process. Somebody makes a charge against you, there should be due process. That's all people are asking for. Let's find the truth. We have to come down on the side of respect for the allegations that are made.
Pelosi also described Christine Blasey Ford's Thursday testimony as credible:
Yesterday, the American people were moved — and really in some cases heartbroken — by the courageous testimony of Dr. Christine Blasey Ford. Dr. Ford told her story with extraordinary dignity and grace, bravery, and unimpeachable credibility.
Pelosi described Republican members of the Senate Judiciary Committee as disrespecting women who were sexually assaulted: "The Republican men of the Senate have sent an unmistakable message to women and girls everywhere: If you come forward, you will not be respected and you will not be listened to."
Senate Republicans' selection of a woman prosecutor to question Ford as "patriarchal":
Republicans using a woman prosecutor was an act of complete cowardice on their part. It was an act of patrimony, patriarchal. They can determine who asks the questions. They don't honor their own responsibilities and they're afraid of the truth, and they're afraid of the dignity of Dr. Ford.
None of the journalists in attendance asked Pelosi about her overall health, despite her repeated struggles with enunciation.
Follow Robert Kraychik on Twitter.
http://feedproxy.google.com/~r/breitbart/~3/5mx24eyAcJ0/