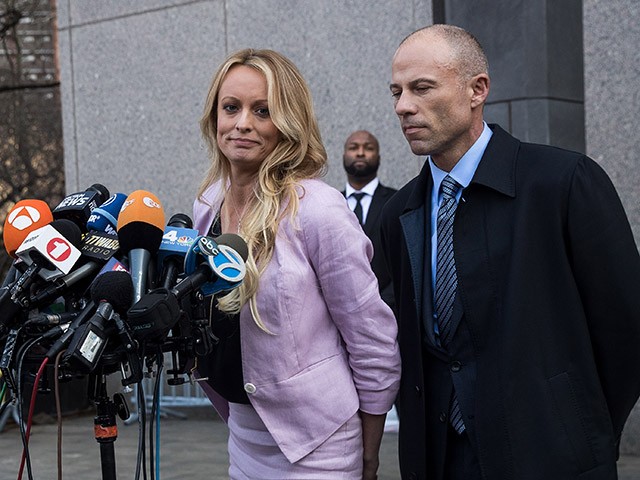 Pornographic actress Stormy Daniels said in an interview released Wednesday that her attorney Michael Avenatti sued President Donald Trump for defamation against her "wishes" and alleged the 2020 Democrat hopeful crowdfunded defense funds without her permission.
U.S. District Judge S. James Otero dismissed Daniels' lawsuit stemming from an April tweet by President Trump, in which he said the composite sketch of a man she alleged had threatened her in 2011 to remain silent about a purported affair with the real estate tycoon was a "con job."
President Trump's attorneys wrote in a court filing submitted to a Los Angeles court that the president wrote that Daniels, whose real name is Stephanie Clifford, "filed this action, not because it had any merit, but instead for the ulterior purposes of raising her media profile, engaging in political attacks against the president by herself and her attorney, who has appeared on more than 150 national television news interviews attacking the President and now is exploring a run for the presidency himself in 2020."
President Trump is currently seeking $342,000 in lawyer fees from Daniels.
Daniels, frustrated that Avenatti's failed lawsuit could cost her hundreds of thousands of dollars, spoke out against the resistance folk hero.
"For months I've asked Michael Avenatti to give me accounting information about the fund my supporters so generously donated to for my safety and legal defense. He has repeatedly ignored those requests. Days ago I demanded again, repeatedly, that he tell me how the money was being spent and how much was left," she told the Daily Beast. "Instead of answering me, without my permission or even my knowledge Michael launched another crowdfunding campaign to raise money on my behalf. I learned about it on Twitter."
"I haven't decided yet what to do about legal representation moving forward. Michael has been a great advocate in many ways. I'm tremendously grateful to him for aggressively representing me in my fight to regain my voice. But in other ways Michael has not treated me with the respect and deference an attorney should show to a client. He has spoken on my behalf without my approval," the porn star continued. "He filed a defamation case against Donald Trump against my wishes. He repeatedly refused to tell me how my legal defense fund was being spent. Now he has launched a new crowdfunding campaign using my face and name without my permission and attributing words to me that I never wrote or said."
In a separate statement to the Daily Beast, Avenatti responding to the allegations of purported shady crowdfunding practices. "I am and have always been Stormy's biggest champion. I have personally sacrificed an enormous amount of money, time and energy toward assisting her because I believe in her. I have always been an open book with Stormy as to all aspects of her cases and she knows that," Avenatti said.
"The retention agreement Stormy signed back in February provided that she would pay me $100.00 and that any and all other monies raised via a legal fund would go toward my legal fees and costs. Instead, the vast majority of the money raised has gone toward her security expenses and similar other expenses. The most recent campaign was simply a refresh of the prior campaign, designed to help defray some of Stormy's expenses."
One of the crowdfunding campaigns featured on the website CrowdJustice has taken in over $580,000 to cover the Daniels' legal bills. Avenatti told the Daily Beast that he hasn't made a cent off the campaign. He claims his law firm has dedicated "well over a thousand hours of attorney time" on the defemination lawsuit, valued at over $1,500,000.
http://feedproxy.google.com/~r/breitbart/~3/gLyO4YTabtE/