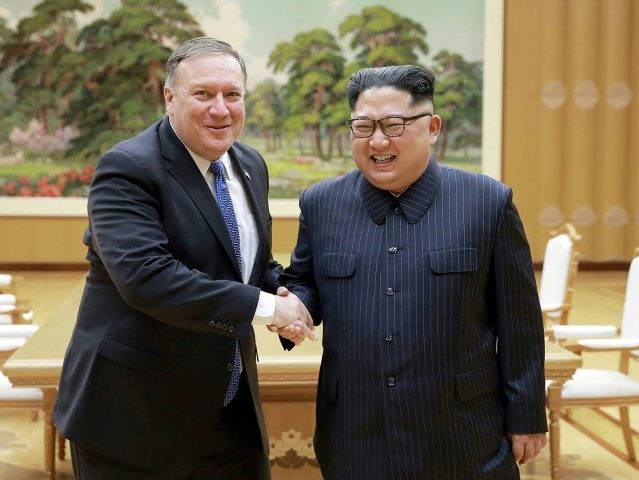 U.S. Secretary of State Mike Pompeo will travel to North Korea to meet with Chairman Kim Jong-un on Sunday in preparation for a second denuclearization summit between President Donald Trump and the Asian country's dictator, a Department of State spokesperson said Tuesday.
"These conversations are going in the right direction, and we feel confident enough to hop a plane to head there to continue the conversations," Heather Nauert, a spokeswoman for DOS, told reporters.
The spokeswoman noted that negotiations to convince Kim to take credible steps towards the complete denuclearization of the Korean Peninsula in exchange for relief from international sanctions are ongoing, adding:
I think it shows forward progress and momentum that the secretary is making his fourth trip back in less than a year. The first of course was as CIA director. This will be his third as secretary of state, and that shows the president's commitment to the agreement that he and Chairman Kim came to at the Singapore Summit [in June]. The secretary going on for follow-on conversations. As we often say, the conversations continue. Of course we have quite a ways to go but we look forward to the next steps in this conversation.
Nauert said that Pompeo remains "hopeful" that the Trump administration's goal of a complete, verifiable, and irreversible denuclearization of the Korean Peninsula might be achieved by January 2021.
She explained:
The secretary and the president said we're not going to set arbitrary deadlines in the interim. We're hopeful. We're working toward that goal. Everyone recognizes that we have a way to go. A ways to go and a lot of work that is left to be done. I'm not going to get ahead of the secretary's meetings that he'll have in Pyongyang but I know he looks forward to continuing the conversation.
Nauert pointed out that the easing of sanctions remains contingent upon the verification of credible steps towards the peninsula's complete denuclearization, telling reporters:
Our [sanctions] policies [towards North Korea] have not changed one bit. We got behind the maximum pressure campaign. The United States government still stands firmly behind the sanctions put in place.

The world stands behind those sanctions that are put in place. We've not eased that one bit. In fact, every chance we have the opportunity to discuss – whether it's with China or Russia or any other country around the world, we're talking about keeping the sanctions in place and not easing those sanctions on North Korea until we see the fully verified denuclearization.
Her comments came a day after a South Korean minister told lawmakers in his country that dictator Kim is estimated to have up to 60 nuclear weapons, shedding light on the regime's secret program.
Nauert said last week that Pompeo made plans to travel to North Korea when he met with the Asian country's Foreign Minister Ri Yong Ho on the sidelines of the United Nations General Assembly on September 26.
"Secretary Pompeo accepted Chairman Kim's invitation to travel to Pyongyang next month to make further progress on the implementation of the commitments from the US-DPRK Singapore summit, including the final, fully verified denuclearization of the DPRK, and to prepare for a second summit between President Trump and Chairman Kim," the spokeswoman noted in a statement.
In June, President Trump held an unprecedented meeting with Kim.
Alluding to a second U.S.-North Korea summit that day, President Trump Trump said the meeting would happen "fairly quickly."
Kim "wants to see things happen for North Korea that are great," Trump told reporters.
"They really have the potential" to be an economic power, he also said, adding, "A lot of good things are happening."
http://feedproxy.google.com/~r/breitbart/~3/k7mPyMQZWgU/